Leave Rev. Martey Alone, Kwesi Pratt!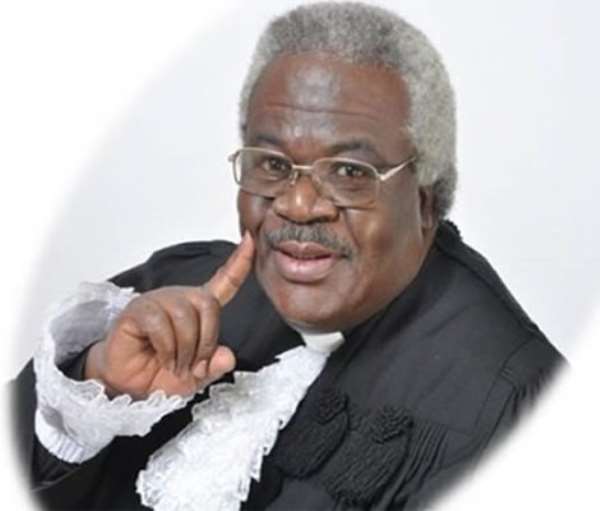 If it had not been reported by a credible broadcast media organization, I would have sworn that the Managing-Editor of the so-called Insight newspaper was an incurable Satanist. I am not in any way, hereby, claiming that Mr. Kwesi Pratt is any devout or practicing Christian. I am simply expressing my great surprise at the fact that the National Democratic Congress' hireling and shameless freeloader claims to have attended a Presbyterian Boys' School (See "Presby Moderator Is A 'Religious Bigot' - Pratt" Adomonline.com / Ghanaweb.com 3/14/15).
I am, of course, also wondering which Presbyterian Boys' School this craven and brazen opportunist attended. I am assuming that he is referring to one of those cutting-edge Presbyterian Middle Boys' (Boarding) Schools, those that are popularly called SALEM. Then also, I was thinking about PRESEC, the Presbyterian Secondary School located between Legon and Madina, formerly called the Krobo-Odumase Presbyterian Secondary School. I have an uncle or two who attended PRESEC when it was located on its original site and township, and was also "The Legon of Ghanaian Secondary Schools."
The fact of the matter is that the Presbyterian Church of Ghana has produced far too many good and great Ghanaians, in recent memory, than perhaps any single Christian institution in the country. At least the legendary Church of Basel has the enviable credit of having founded the oldest higher educational academy, namely, the Presbyterian Teacher-Training College at Akuapem-Akropong in 1848. Of course, the political foundation of the Akuapem State, or Okuapeman, is Akyem-Abuakwa. And so in practical terms, one cannot speak about the intellectual puissance and prowess of Akuapemfo without synonymously alluding to the genius and ingenuity of Okyeman.
I am forced to briefly divert course into this sphere of Presbyterianism because, as a fanatical Nkrumacrat, Mr. Pratt has not hesitated to seize on every opportunity to malign and disparage one of the leading lights of modern Ghana and a great product of the Presbyterian Church of Ghana; and that personality, of course, is Dr. Joseph (Kwame Kyeretwie) Boakye-Danquah. Likewise, the until very recently unsung shero and designer of the Ghana Flag, Mrs. Theodosia Asihene Okoh, a relative of the putative Doyen of Gold Coast and Ghanaian Politics, was born and raised by Presbyterian parents, with her father being a distinguished Presbyterian minister and educator.
What I am trying to get at is that Mr. Pratt may be biting more than he obviously seems capable of chewing, by so cavalierly presuming to take on the distinguished head of an institution which the notoriously rambunctious critic himself claims to have profoundly shaped his intellectual and psychological foundations. I, personally, on occasion have criticized Rt.-Rev. Emmanuel Martey on certain ethical and philosophical issues on which I thought he could be more charitable in his pronouncements. But in this particular instance, I firmly believe that tough-mindedness of the kind exhibited by the Moderator of the Presbyterian Church of Ghana (PCG) ought to be unreservedly applauded and even emulated, rather than condemned.
Defending the integrity of a country whose foundations and development Christians have played no mean part is an act that ought to be commended and staunchly supported. And we would rather choose the purported "bigotry" of Rev. Martey than allow ourselves to be ridden roughshod over by our cold-calculating and devious detractors in the specious name of "Ghanaian Secularity." We shall have more time, we hope, in the near future to discuss the very curious notion of Ghana's being a "Secular State."
In the meantime, however, suffice it to observe that whatever "Secularity" is inscribed in the country's 1992 Republican Constitution does not appear to have either informed or inspired the composer of our National Anthem. For the very opening lines of "God Bless Our Homeland, Ghana," clearly points to the fact of Ghana's being anything but a secular state.