'No one can stop us', says South Africa skipper de Villiers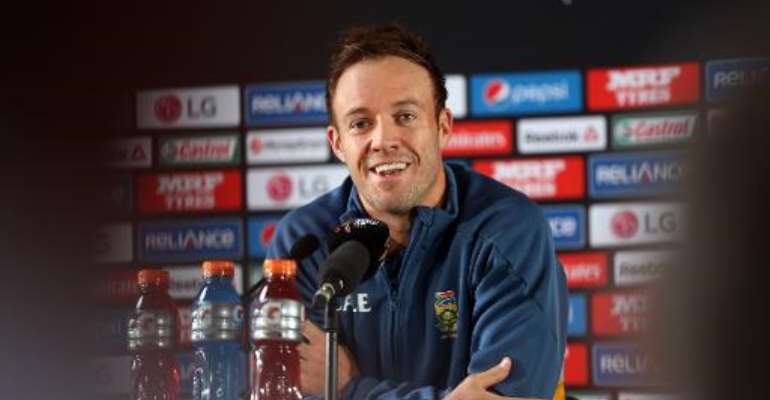 Auckland (AFP) - After years of South Africa being lumbered with the "chokers" tag, captain AB de Villiers boldly declared on Monday the World Cup was theirs for the taking this time.
De Villiers was in a confident mood on the eve of the semi-final in Auckland against New Zealand with neither side having made a World Cup final before.
Ahead, lies a date next weekend in Melbourne with the winner of Thursday's second semi-final between defending champions India and former winners Australia.
"We have a lot of confidence behind us. I feel the team is in a really good space at a really good time. We have a lot of reason to be confident," de Villiers said.
"If we play to our full potential, no one is going to stop us in this tournament."
In a brief series at the start of the New Zealand summer, South Africa came out on top 2-0 before New Zealand won a warm up match days before the World Cup started.
In previous World Cups they have met six times with New Zealand holding the edge 4-2, including the last three encounters.
However, de Villiers was not interested in looking back. All that mattered to him was how his class of 2015 performed.
"There has been a lot of emphasis on our past and South Africa not doing well at World Cups. I have gone through the whole package of emotions, fighting it, accepting it, then fighting it again," he said.
"I honestly am not putting emphasis on that at all.
"We know if we play a good game of cricket we will come out on top. We are that confident in our abilities as a cricket team.
"We have been through a lot of hardship in the past with our World Cup games but we feel very fresh and are very excited for tomorrow."
The semi-final may be a high-stakes game, and New Zealand have talked about the hours spent analysing the South Africans, but de Villiers was not concerned about the New Zealanders nor the injury that has ruled out speedster Adam Milne.
"I think it is a big loss for them. They will deal with it in their own way. But I can't go into it in too much detail because I can honestly tell you that we have been focussing on our performance," he said.
"It would be silly to focus too much on the cricket they have played, because they have played really well. But not only that, I personally don't like to focus too much on the opposition.
"I know that if we rock up on the day and play a good game of cricket we will come out on top."
- Philander for Abbott? -
But de Villiers was pleased with the intelligence learned from having played at Eden Park when losing a World Cup thriller to Pakistan where South Africa were dismissed for 202 when chasing a revised target of 232 in 47 overs.
Learning the angles of the field, and knowing its history of low scores despite having some of the shortest boundaries in international cricket provided valuable information.
"I don't think anything over 230 has ever been chased down here in an ODI," he said.
"So it's maybe not a bad thing to know those little things going into a semi-final and how to go about it, not to panic when you lose a couple of wickets early.
"You can always find your way back on this field and keep fighting because you are never out of it.
South Africa have declared a fully fit squad to choose from with Vernon Philander running freely during net practice and showing no sign of the hamstring strain that has limited his World Cup appearances.
De Villiers said the XI to play New Zealand has not been finalised but he did not rule out changes from the side that beat Sri Lanka by nine wickets in the quarter-finals, suggesting a recall for Philander at the expense of Kyle Abbott.
"It's really difficult, especially after a win like that last one. It's tough to change a team that played. But we might have to look at a couple of combinations that might strengthen our team."