The Recent Injustice Against Minah Manneh, A Gambian Human Rights Activist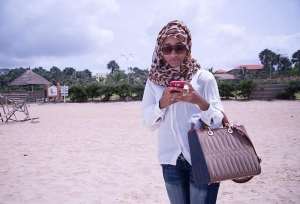 African Visionaries is an alumni group of participants of IHAV Project Conference 2014 which is an annual conference organized by IHAV Foundation, an NGO in Ghana which seek to empower the youths to put their visions in action. With this background, our member Amina Manneh popular known as Minah Manneh who is a human right activist, the mentorship coordinator at Think Young Women, a non profit organization, an intern at American Corner Banjul and a 3rd year student in University of the Gambia, a relentless, caring, passionate and a fun loving person who has advocated on several societal issues including Female Genital Mutilation. It was no surprise when a video she posted of a policeman assaulting a young girl on her facebook timeline on March 18th 2015 with the caption "This is a total child's Right violation. Since when does a traffic police officer have the right to lay hands on a young school girl cuz they were fighting??

i mean we all went through this. what has become of our authorities???" went viral on social media. The incident that followed the posting of the video is what disheartens the members of African Visionaries. She went missing for 48 hours with no news of her whereabouts with reports indicating she was picked up by government officials of Gambia for posting a video that projects The Gambia in a negative light to the rest of the world per the Anti-Internet bill passed in the country. Our investigation shows she isn't the only person advocating as voice of the voiceless to go missing. She was later released but had to flee the country since her safety wasn't assured. We release this statement to appeal for support from the chairman of ECOWAS H.E John Dramani Mahama and all youth and human rights advocates in Africa and around the world to help appeal to the heart of the Gambian Authorities headed by the Gambian president H.E. Yaya Jammeh, the vice president H.E Isatou Njie-Saidy to intervene and allow Minah Manneh to come back home without fear of being in danger. She is a very kind-hearted young lady and a true patriot, she was once asked why she is always smiling and she replied 'because i come from the Smiling Coast'. This is how much she loves and projects The Gambia to us.