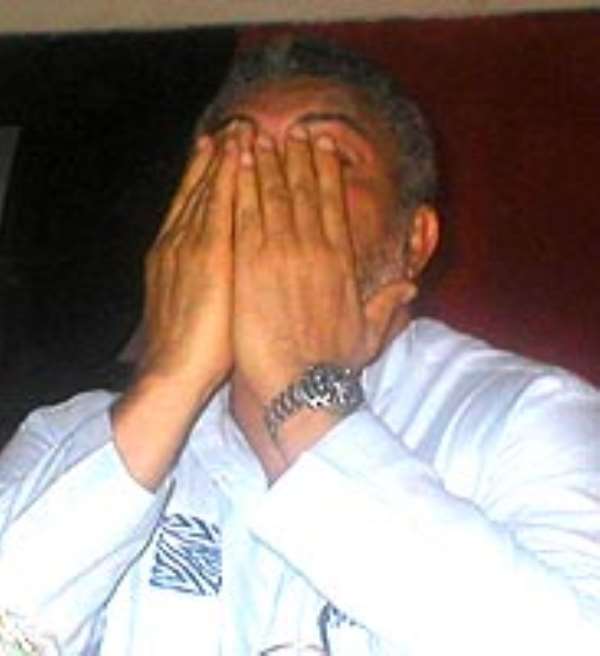 Whether Chairman Jerry John Rawlings likes it or not, the current crop of criminally corrupt politicians that comprises the Mahama-led government of the so-called National Democratic Congress (NDC) was created by the former faux-revolutionary leader of the tandem juntas of the Armed Forces Revolutionary Council (AFRC) and the Provisional National Defense Council (PNDC). In other words, what Ghanaians are presently witnessing in the name of governance is the veritable mintage and legacy of Mr. Rawlings; and so it is rather amusing that the infamous Butcher-of-Sogakope seems to be having such a hard time coming to terms with his own political handicraft.
He is the proverbial man in the mirror; and so it is not clear why he would so cavalierly presume to lecture the rest of us on political and/or leadership ethics (See "60% of Thieves in Gov't Hold Positions in NDC - Rawlings" Adomonline.com / Ghanaweb.com 3/13/15). And when he opines that 60-percent of all Ghanaians engaged in paid political activities are clinical "thieves" who are also front-pew members of the National Democratic Congress, Chairman Rawlings actually gets his figure wrong. What he sincerely means is that nearly all the thieves in Ghanaian politics were culled and nurtured by himself.
If this interpretation has validity, then what Togbui Avaklasu I means is that a good 100-percent of Ghanaian politicians belong to the party that he and his wife, Nana Konadu Agyeman-Rawlings, founded and in the words of Mr. Johnson Asiedu-Nketia, the globally renowned cross-dressing General-Secretary of the NDC, was until very recently patented and/or copyrighted in the name of Mr. and Mrs. Rawlings. We know for a fact that virtually every corrupt and salaried Ghanaian politician belongs to the National Democratic Congress because in the wake of the scandalous acquittal of the leading NDC underwriter Mr. Alfred Agbesi Woyome, in the matter of the latter's mega-scamming of the Ghanaian taxpayer to the tune of GHC 51 million, this was what Chairman Rawlings had to say:
"When 40-percent of the corrupt [NDC] people lost their positions to enable us to clean the party, the 60-percent [of clinically corrupt individuals who were named to replace the corrupt 40-percent simply] came in to protect themselves [and their ill-gotten wealth]." Chairman Rawlings also quickly added that the shocking aspect of such political scam-artistry inhered in the fact that the 60-percent substitute thugs were resoundingly voted into place and power by legitimately elected party delegates. For me, though, the telling punchline could not have been delivered with any more poignancy when the NDC founding-father rhetorically declared thusly: "Are we so stupid?"
Well, the most logical answer is that the rank-and-file membership of the National Democratic Congress may not necessarily be composed of congenital cretins and buffoons, but rather pathologically depraved humans who are so deeply steeped in their depravity as to have reached a level of irreparable nihilism. Still, on one question Chairman Rawlings is incontrovertibly dead-on-target: It constitutes the height of imbecilic mischief for any Ghanaian, irrespective of ideological suasion, to expect the self-serving rascal who opened Pandora's Box to smugly castigate grossly incompetent and hopelessly corrupt politicians like Messrs. John Dramani Mahama and Kwesi Bekoe Amissah-Arthur, whose foremost crime is to have so facilely fallen for the revolutionary scam-artistry of June 4th and December 31st.
The ideologically hazy and psychologically addled and cognitively dissonant leaders of the main opposition New Patriotic Party (NPP) had better sit up and give this suicidal tirade of Chairman Rawlings' some deep thought. And the latter admonishment is, of course, assuming that Nana Akufo-Addo and Messrs. Osei Kyei Mensah-Bonsu and Dominic Nitiwul have recovered from their sucker-punch-induced stupor and coma.
By Kwame Okoampa-Ahoofe, Jr., Ph.D.
Garden City, New York
March 13, 2015
E-mail: [email protected]