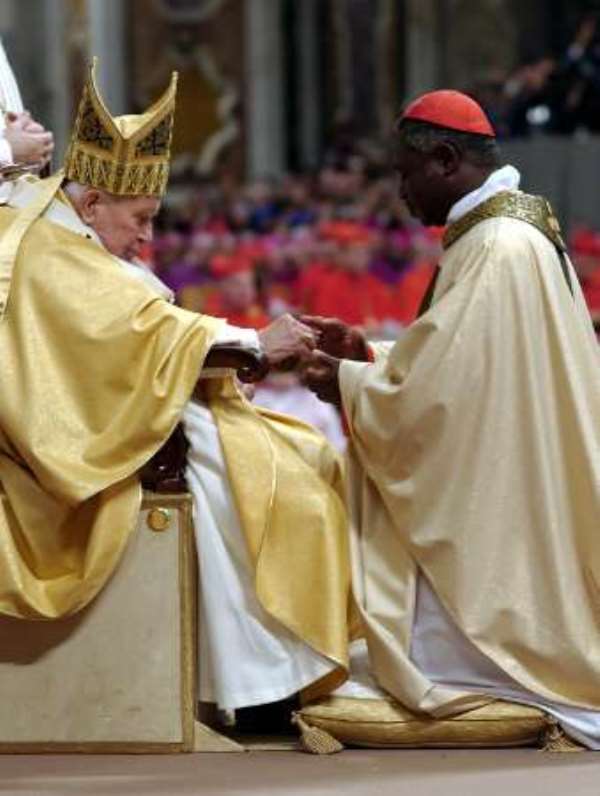 Cardinal Appiah Turkson • Ghana's Potential Pope
About nine months ago, on October 21, 2003 to be precise, another Ghanaian made history, not on the quiet or in obscurity, but amid pomp and pageantry and in full glare of the watching world.
On that eventful day, at St Peter's Square at the Vatican, Ghana's then Archbishop Kodwo Appiah Turkson was installed the first Ghanaian Cardinal.Naturally, the historic event thrilled the hearts of many Ghanaians, those who appreciated the implications as well as those who did not. What mattered most to the average Ghanaian, irrespective of their religious inclinations, was the fact that another Ghanaian had been honoured and elevated to a very high international office.
Understandably, Ghana sent a high-powered delegation to witness the colourful ceremony, during which Archbishop Turkson was presented the symbol of his new office — the red hat or biretta and a scroll — by Pope John Paul II. He had become a cardinal.
"Cardinal" is the title conferred by the Pope on members of the body of advisers known as the College of Cardinals. These cardinals, currently numbering about 194, advise the Pope on matters related to the governance of the global church. They assume the governing of the universal church when the Pope dies and it is also this same College of Cardinals which elects a new Pope when the seat becomes vacant.
Like most great men the world has known, Cardinal Turkson had humble beginnings. He describes himself as 'a mine pikin,' a term which he explained is generally applied to children born in mining towns. With a smile, he reminisced with nostalgia:"I was born to Pious Kwabena Turkson, a carpenter who worked with African Manganese Company, and Agnes Aba Dansowa, a petty trader, on October 11, 1948," Cardinal Turkson said and this immediately evoked images of another carpenter's son, born in the hilly town of Bethlehem some 2000 years ago.
The fourth of 10 children born to his parents, young Kodwo Turkson started his primary education at the Nsuta Roman Catholic Primary School and continued to the Urban Middle School. After middle school form two, he was faced with a critical choice, the outcome of which would chart the path he would tread the rest of his life.
He had written the Common Entrance Examination which would enable him pursue secondary education at Sekondi College and at the same time applied to the seminary for admission. Letters offering him admission to both institutions arrived at about the same time.
It was a critical period so daddy Pious Turkson assembled all ten children and together with his wife, asked his young son to make a decision on the issue, using the occasion to point out to the young boy the seriousness of the issue at stake."As a child, and through my adolescence, I had such a maddening bunch of tricks up my sleeves that whenever I returned from school, my family was sure I would be followed by complaints of what I'd been up to.
Earlier on, however, an indelible image had engraved itself on the subconscious of young Kodwo Turkson. The solitary figure of a lanky Dutch priest in priestly garments with his hands behind his back, pacing up and down the aisle of the parish, had stirred in him the strong desire to become a priest.
As the family waited for him to make up his mind, this image came back forcefully to him. The unique style of Catholic worship, especially the use of Latin language, also fascinated him and all these interplayed to awaken in him the desire to become a priest.
Finally, as the family waited, he voiced out his conviction: He would become a Catholic priest. The family, according to him, was shocked. He was about 14 years old at the time.However, his mind was made up and his father, a devout Catholic, gave him his blessings.
Thus, in 1961, he proceeded to the St Theresa's Preparatory Seminary at Saltpond and then on to St Theresa's Minor Seminary at Amisano, near Elmina, where he wrote both his G.C.E. Ordinary and Advanced Level examinations. "I loved science so much that I got the nickname Archie, being the short form of Archimedes," the Cardinal said with a smile. Unfortunately, Cardinal Turkson had to give up the study of science at the Advanced Level because the Seminary did not offer science courses."I hesitated to continue my education at the Seminary because of this hurdle. I wanted to join the air force or go to any other place where I could realise my science dream."
Young Kodwo Turkson loved football. A football enthusiast at the time, he played the Number 5 position at Amisano Seminary and even today, Cardinal Turkson says he enjoys watching football matches.His happy-go-lucky disposition also saw him becoming the entertainment prefect while at St Peter's Seminary at Pedu, Cape Coast. Here, young Kodwo Turkson played in the school band — The Incredibles.
That, Cardinal Turkson pointed out, was life way back at school between 1968 and 1970. The pursuit of education later took him to the St Anthony-on-Hudson Seminary in Rensselaer, New York, where he obtained a Masters degree in Theology and Divinity.
In 1975 he returned to Ghana and was ordained a priest by the late Archbishop John Kodwo Amissah at St Francis de Sales Cathedral. His first assignment as a priest saw him teaching Sixth Formers geography and religious studies at St Theresa's Seminary. That, incidentally, was where he faced one of his biggest challenges.
"I had not studied geography but I was to teach Lower Sixth Formers geography.The young priest, determined to prove himself, spent several hours at the Cape Coast University library, reading. Incidentally, news had gone round that the young geography teacher had not studied the subject at school and the students were naturally anxious, but he approached his subjects with such mastery and confidence that soon the fears of the students were put to rest.
"I'm happy to say that none of my students failed geography in the Advanced Level examinations," Cardinal Turkson observed with satisfaction.Cardinal Turkson also taught at St Peter's Regional Seminary (Pedu), as a part-time lecturer in the Department of Religious Studies, University of Cape Coast, and as a visiting lecturer at Major Seminary at Anyama in Cote d'Ivoire.
Obviously a distinguished scholar and lecturer, Cardinal Turkson speaks and writes a number of foreign languages — French, Italian, German, Hebrew and Greek.He was pursuing a doctorate degree in Sacred Scripture in Rome when Pope John Paul II elected him as Archbishop of Cape Coast at the death of Archbishop John Kodwo Amissah. This was another big challenge and Cardinal Turkson describes his emotions in superlatives.