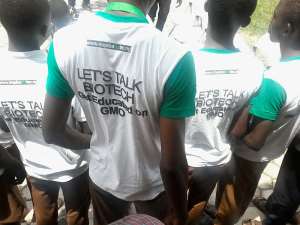 Ghanaian researchers are focused on increasing knowledge on the application of biotechnology in agriculture and other economic activities.
The scientists believe the high opposition to the introduction of genetically modified (GM) products into the country could be a result of limited information on the subject.
"Biotechnology is an emerging area of science; it's progressing faster than computer science and even those of us in this part of the world, it's difficult to even catch up with the pace and that is what has brought about all the myth fear about the GM technology," said Dr. Marian Quain, Head of Biotechnology Research Programme at the Crops Research Institute (CRI) of the Council for Scientific and Industrial Research (CSIR).
She is coordinating a project to introduce biotechnology education in high schools across sub-Saharan Africa.
Some Senior High Schools in Kumasi were engaged in a debate on biotechnology as part of the project – it was won by T.I. Ahmadiyya Senior High School, Kumasi.
"The information on biotech even in the syllabus is scanty, so we don't have much facility in the laboratory even to help teach it," stated Henry Edem Denteh, a teacher at T.I. Amass.
He describes the programmes as education as his school also receives training kits to facilitate teaching and learning of the subject.
Dr. Quain observed Ghana is yet to optimize use of biotechnologies in agricultural production and is hopeful the project will enhance critical thinking among students in the areas of biotech and GMOs.
"We need to get them educated so that they can make informed decisions and communicate effectively about the technology," she stated.
The project is supported by Inqaba Biotechnical Industries Limited, a company that assists researchers in testing for GMOs to detect and isolate wrong materials. It is also creating a network in sub-Saharan African to promote biotechnology.
Ghana Area Director of Inqaba Biotec, Christian Adabor Badu, acknowledged there are "bad" GM products in the system but stated that the country should not neglect the importance of having "good" GMOs in place.
He is worried a high court injunction halting production and commercialization of GM products will impede efforts at applying science and technology to increase Ghana's food security.
Campaigners against GMOs, Food Sovereignty Ghana, is in court contesting the process of testing and production of crops like rice and cowpea using GM technology without an established Biosafety Authority to legally regulate such activities.
According to the group, Ghana's food security is endangered if it has to depend on multinational companies to produce seeds for local farmers and also contends that GM products will hurt the ability of farmers to use natural seeds for production.
The Court has ordered government to stop GM activities until the case brought by Food Sovereignty Ghana is determined.
But Mr. Adabor Badu says this development will not be in the interest of research for higher productivity.
"If we are able to embrace GMOs in the right way, the country will be able to go far in terms of increasing yield and crop and animal production," he stated.
Story by Kofi Adu Domfeh