March 9, 2015
|
General News
NPP To Discipline Organiser Over Police Recruitment Scam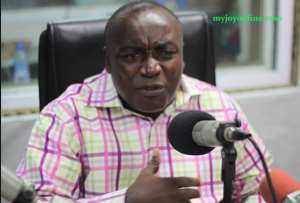 The Western regional branch of the new patriotic party (NPP) has indicated that it would not shield any of its members who involve themselves in fraudulent acts.
To this end, the party in the region has stressed that it would apply its internal disciplinary measures against one Amos Kofi Brown, an activist who has been arrested by the police over his alleged involvement in the recent police recruitment fraud.
The 40-year-old suspect is the current deputy secretary of the NPP in the Takoradi constituency of the Western Region.
"For now it's an allegation; but when it is found out that the story is true the party will use its disciplinary actions against Brown," the party indicated.
The Regional Organizer of the NPP, Abdul Mohammed Ganiyu, confirmed that the arrested suspect was an executive member of the NPP in the Takoradi constituency.
He maintained that if the allegations happened to be true after investigations, no one could tag the NPP with the alleged act because the suspect carried out the alleged fraud in his personal capacity.
Charles Bissue, Regional Secretary of the NPP, also indicated that even though Brown is a member of the party, it (party) knew nothing about the alleged scam.
"The party has not sent him to do anything like that," he added.
He noted that for now the issue was under investigations, adding that the party would wait for the outcome of the investigations before it would decide on the next line of action.
The Western Regional Police Command arrested Brown last Tuesday for his alleged involvement in the recent fraudulent police recruitment exercise.
The suspect, also called Ogyaframa, claimed he is the marketing manager of Radio Silver, a private radio station in Sekondi.
According to the police, the suspect managed to dupe the unsuspecting victims of about GH¢160,000.00.
The police explained that the modus operandi of Amos Brown was that he purportedly collected GH¢4,000.00 from each applicant after issuing them with fake recruitment letters, adding that the suspect claimed that about 40 people paid the 'recruitment' fee, totalling GH¢160,000.00
Briefing journalists in Sekondi, the Western Regional Police Commander, DCOP Isaac Alex Quainoo, said that the suspect was arrested on March 3, 2015.
Among the items retrieved in his room by the police were a list of names of victims, one Ghana Commercial Bank pay-in slip bearing the name Patrick Eden Timbilla, with face value of GH¢11,400 and account number 1181120007220, dated October 21, 2014.
'Eleven passport-size photographs and brown envelopes having the address and account number of Patrick Eden Timbilla were also found,' the regional police boss added.
DCOP Quainoo maintained that the suspect claimed ownership of the items and mentioned one Baba Alifa residing in the region, as his accomplice.
Amos Brown alleged that he delivered the total sum of money to Alifa through vehicles that plied Takoradi and other parts of the region.
From Emmanuel Opoku, Takoradi