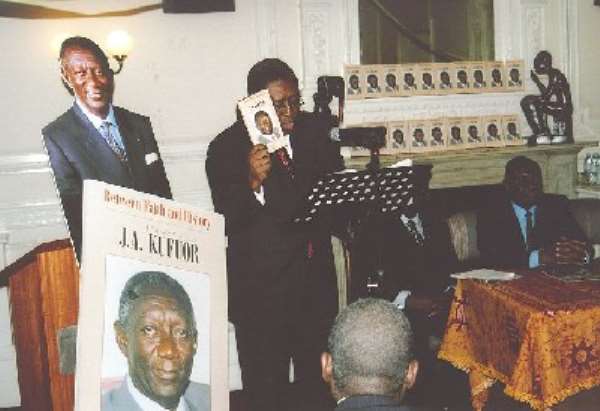 A book about the life of the President Mr. J.A. Kufour has been launched in London.
The 136-paged book - 'Between Faith and History'- published in April this year by the Africa World Press is authored by Ivor Agyeman Dua a Ghanaian Journalist and a Diplomat.
'Between Faith and History' attempts to achieve that fusion of narrative between the biography of the President of the republic of Ghana. The book is democratising access to the interesting insight that explains the combination of vision and determination, as well as the self-confidence and self-sacrifice that make up the psycho-matrix values, heritage and name of Mr. Kufour.
The book has eight chapters and is reviewed and praised by prominent and imminent figures like Professor Ivor Wilks Professors of African History, Northwestern University, Evanston; Professor Ali A. Mazrui, Professor in Humanities at the State university of New York; Mr. Kabral Blay Amihere Ghana's Ambassador to Sierra Leone, Ama Ata Aidoo,a renound Ghanaian Writer, S.K.B Asante, President of the Ghana Academy of Arts and Sciences among others. Launching the book, Ghana's High Commissioner to the United Kingdom, Mr. Issac Osei observed that President Kufour's success story is an instructive lesson that those who aspire to high office must first acquire skills through appropriate education and garner experience by serving in other positions. He said the highest office of the land is not attained by a sudden quirk of fancy or by other devious means but by hard work, assiduity and sheer persistence.
Mr. Osei acknowledged the continued broad mass goodwill being enjoyed by Kufour and his government now emanates from nothing but the sacrifice he has made to the country over the years and the dedication now to his countrymen. He described the president as not only as physically giant but one whose inner strength, intellectual capacity and steely determination to support wealth creation in Ghana.
The Apotihene of Kumasi, Oheneba Agyemang Badu who chaired the function, noted that President Kufour's determination to succeed in what he undertakes is a crucial principle of his philosophy adding that he is an embodiment of nationalism.
The author Mr. Agyemang Dua, currently, the Minister Counsellor and Head of Public affairs Diplomacy at the Embassy of Ghana in Washington, DC in the US said Ghana has no autobiographical accounts of any of it' s leaders apart from Dr. Kwame Nkrumah.
He said this has been so because the culture of memoir writing has not improved with the leaders or because they were busy nor did bad things for which they were afraid or embarrassed to make permanent in writing. Mr. Agyemang Dua stressed the need for such writings to be done on leaders as well as prospective leaders for the people to know their leaders well even before they become leaders.
This according to him this will not only provides the people with insight into the type of personalities they want as their leaders.