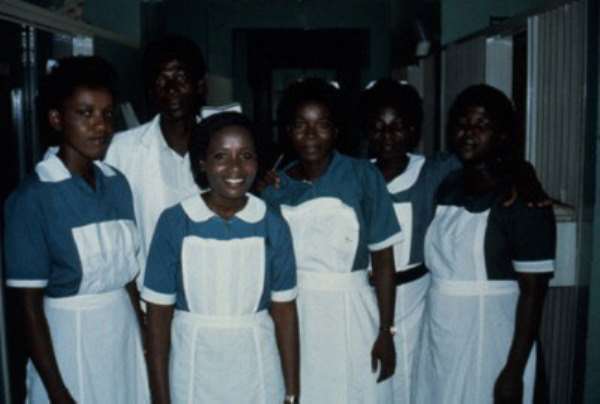 Tamale, Aug 3, GNA - Nurses at the Tamale Teaching Hospital on Monday embarked on a strike to back their demand for the payment of 'FIFTY-TWO Additional Duty Hours Allowance (ADHA) to them.
Mr Abdul-Goniyu Imoro, Regional Chairman of the Ghana Registered Nurses Association (GRNA), told the GNA that other categories of health workers such as Doctors, Pharmacists, X-ray and Laboratory Technicians as well as Nurses in the districts were receiving 152 ADHA while those at the Tamale Teaching Hospital received 100 ADHA.
He said that in 2001, all professions within the Ministry of Health were given 100 ADHA and explained, however, that since 2003 when it was raised to 152, Nurses at the Tamale Teaching Hospital were left out. He said apart from the 52 ADHA, Nurses at the Tamale Teaching Hospital had also been denied the in-house incentive package with only Doctors benefiting.
"In spite of several attempts to have the issues resolved, the hospital authorities continue to show lukewarm attitude towards our plight and this has necessitated the strike action," Mr Imoro said. About 70 per cent of the hospital's workforce were Nurses but because of the inadequate requisite professionals, they performed almost all the duties, he said.
"The authorities have marginalized Nurses at the hospital regarding decision-making that affects their welfare," Mr Imoro added. He said some Nurses at the hospital were leaving for other regions to benefit from the incentives while others had gone abroad.
Dr Daniel Tapang, Chief Executive of the Hospital, refused to talk when the GNA tried to interview him.
However, Dr Elias Sory, Northern Regional Director of Health Services, told GNA on telephone that the industrial action by the nurses had just been communicated to him.
He said he was waiting for the outcome of the hospital's management meeting to see the intervention the Regional Directorate could make to resolve the issues.