Police foil demo by aggrieved Kwame Nkrumah interchange workers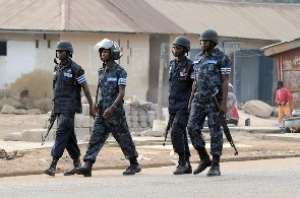 The Police on Monday foiled a planned demonstration by workers of the Kwame Nkrumah Interchange.
According to the Police, they stopped the demonstration due to security reasons.
Construction works on the Kwame Nkrumah Circle Interchange came to a halt after workers began a sit down strike over poor conditions of service.
Clad in red arm bands, the workers say their salaries have not been increased since 2013 when the project commenced.
The workers are also calling for the immediate termination of the HR recruitment agency that linked them to the current job and are demanding that they are allowed to deal directly with management of the Brazilian firm, M/S Queiroz Galvao Constucao.
According to the workers, the HR Company keeps GHC80 out of their GHC150 salary.
The workers are also demanding health allowance saying the working environment and work conditions warrant a proper health allowance.
The 74.88 million Euro project is being jointly financed by the Government of Ghana and the Government of Brazil.
The project is about 80 percent complete and is expected to ease the traffic situation around Circle when completed.
Source:starrfmonline