NDC SPLITS Over Dumsor…Anyidoho Fights Kofi Adams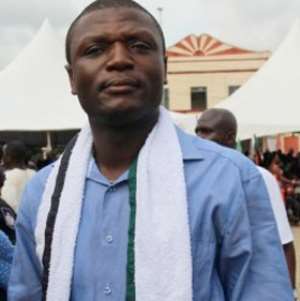 Confusion has erupted in the governing National Democratic Congress (NDC) between what is believed to be the hard-line Mahama supporters and Asiedu Nketia's camp over the power crisis popularly called dumsor that has engulfed the nation.
Leading the assault from Johnson Asiedu Nketia's camp is former presidential spokesperson, Koku Anyidoho, currently the Deputy General Secretary of the NDC, who believes Ghanaians and members of the opposition New Patriotic Party (NPP) have every cause to protest against government's inability to resolve the energy crisis.
The president's camp, led by the likes of the party's National Organiser, Kofi Adams, communication specialist to the president, Sam George Nettey and Deputy Communications Director, Fred Agbenyo, think that the NPP and those criticising government over the 'dumsor' are only doing so for political capital.
Anyidoho believes that Ghanaians, including the opposition, cannot be stopped from holding a demonstration, wondering the rationale behind the press conference hosted by Kofi Adams and his boys to castigate the NPP for hitting the streets against dumsor.
He said if the NDC was in opposition, it would have done exactly what the NPP did.
'They are in opposition. What are you expecting them to do? To sit down? Kudos to them. If I were in opposition, I would do the same thing,' he admitted.
Virtually condemning the press conference, he said the NDC did not sanction them.
VRA Fat Salaries
Sam George, who has been hauled before a court for defamation against Ken Ofori-Atta of Databank Group, is reported to have called for the dismissal of engineers at the Volta River Authority (VRA) for taking fat salaries and doing little to resolve the power crisis, thereby insulting them.
But Koku Anyidoho thinks otherwise and wondered why the young man would make such insulting remarks.
According to Sam George, after receiving thousands of dollars as salary, coupled with juicy work benefits, engineers at the VRA have no excuse to let the nation go through the current crisis.
'The engineers at the VRA have so many questions to answer as far as this energy crisis is concerned,' Sam George charged.
He said the VRA engineers receive as much as $10,000 a month but are simply not delivering on their mandate.
However, Anyidoho who spoke on Neat FM's afternoon political show yesterday decided to do the honourable thing by begging Ghanaians to forgive government officials who had made some utterances and rained insults on them.
'We beg the people of Ghana; they should forgive us over this dumsor-dumsor thing. Me, I'm on my knees and I'm begging them; the president also is begging them and saying that he accepts that we have a problem and that in good time we will manage the crisis. So Adakabre, we have our hands in our palms that as a party and government we are begging them; we will see how we can manage this thing. 'The Bible tells us to admit your sins and move on…,' Anyidoho pleaded.
Rage
However, he did not take kindly to what he called the insults Sam George had been pouring on Ghanaians. He fumed with rage,'Today Sam George is insulting engineers of VRA; who is Sam George…? I am very angry in my soul now.'
He stated that the erratic power supply is a matter of concern for all and ' no one should think they can insult their way out of it .' To him, it is not about how to tame the  babies with sharp teeth  in the NDC, but " about individuals with circumspection .'
Not even the attempt by the programme's host to justify his (Sam George's) comment with a claim that he is a product of the Kwame Nkrumah University of Science and Technology and undertaking a law programme would suffice, as Koku proceeded to ask, 'So he can insult everybody?'
Surprisingly, Koku claimed President Mahama does not support Sam George, daring the young man to come out and say if he (Koku) was lying. 'President Mahama is fed up with Sam George; let Sam George come and tell me that President Mahama supports him,' he dared.
'Ghana belongs to all of us; NDC will not be in power for 100 years. While we are in power, let us manage ourselves; and then you have all these small boys just insulting everybody,' he bemoaned with anger.
Warning
At this point, Anyidoho, a brash character, seemed to have lost his cool. 'You Sam George insulting engineers; you'll go and insult (Ken) Ofori Atta; you go and insult engineers from VRA; Who the hell are you Sam George?' he challenged.
He therefore served notice, 'Now that I am Deputy General Secretary of the party (NDC), I'm waiting for that Sam George boy; I will deal with him.'
He did not want to lump all his party men who had spoken about the issue into one basket because he said it was about individuals with circumspection while admitting, 'We cannot fight some of these things…with the dumsor-dumsor thing, we are all suffering; so if this dumsor-dumsor thing is going on and you come and insult people and you think you can go through…'
The issue seemed to have resurrected an old rivalry between the two, as the invectives went personal. 'I have refused to hold a press conference in this country and I will not for a good reason, but at the right time. All I'm saying is that people like Sam George should be fired; this boy insulted me on Radio Gold sometime ago that I'm the one creating problems for President Mills and this boy, is he not creating more problems for President Mahama?'
Daring
An obviously enraged Anyidoho, who owes his loyalty to the late President Atta Mills, further dared: 'I'm just waiting, if he is a boy and a man tomorrow morning he should take me on and I will descend on him so badly that he will not know where he is coming from,' insisting, 'he has no history.'
But supporters of Kofi Adams also fired back using the social media.
'I just listened to Koku Anyidoho's tapes and all what I can say is……He's the mostly stupid and useless Party National Executive ever. Let someone wake up this notorious arrogant "Castle Pig" from his dreams. Nonsense! So you can't remember you insulted JDM as veep on de corridors at the Castle?' Mohammed Aboagye stated on Facebook.
By Charles Takyi-Boadu