First Lady donates to Kpone Health Centre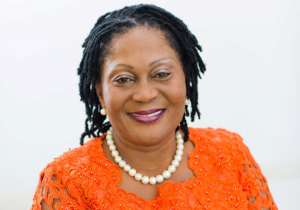 Kpone, Feb. 19, GNA - First Lady, Lordina Mahama has appealed to organizations, philanthropists and other stakeholders to augment government's effort to provide the needed quality health care to the people.
Mrs Mahama said even though government has invested a lot in providing critical social services especially in healthcare, 'government cannot achieve its vision of 'health for all' by itself'.
She made the appeal on Thursday when the Lordina Foundation presented some medical supplies to the Kpone Health Centre in the Kpone-Katamanso District of the Greater Accra Region.
She indicated that to supplement the work of government, her foundation included medical charity in its work, adding that, in collaboration with Medshare of USA, her outfit has provided medical equipment, supplies and logistics to medical facilities in five regions.
The First Lady said she has come to appreciate that life could be preserved and even extended in so many cases, and that many deaths were avoidable if only the right healthcare facilities, personnel and equipment were available.
Mrs Mahama stated that the equipment presented to the Kpone Health Centre would help improve the capacity of the centre to provide quality healthcare.
The items included syringes, urine collectors, personal hygiene items, IV set, drainage bags, gloves, masks, breathing circuits, needles, specimen containers, stabilizers, infusion pumps among others.
Mrs Patience Ami Mamattah, Acting Kpone-Katamanso District Health Director, said the clinic, built in 1996 by the Tema Rotary Club, lacked basic equipment.
Mrs Mamattah said the clinic lacked an official vehicle, operating facility, frequent water supply and ambulance.
She lamented that due to the unavailability of an ambulance, patients were transported in taxis to referral hospitals sometimes with oxygen cylinders attached to them.
She appealed to the Ghana Health Service and the Ministry of Health to construct a modern health facility for the district.
GNA