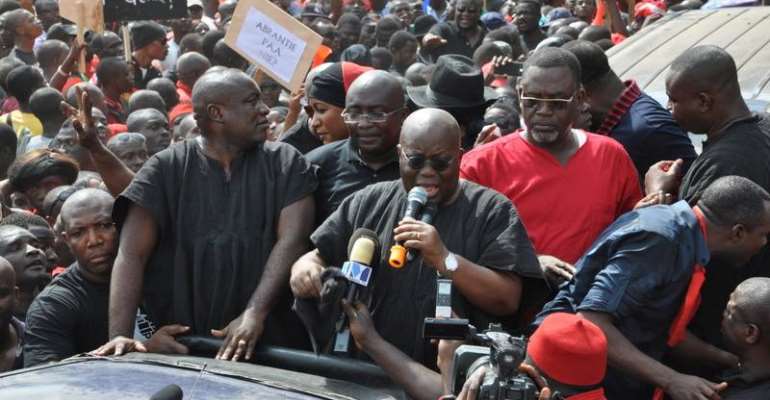 Yesterday the leadership of the New Patriotic Party (NPP) passed a major security test when the demonstration they organised passed off uneventfully.
No bones were broken and no blood was shed. It was a protest march which sought to remind government about major lapses in its management of the country.
The fears which informed the law enforcement agency's decision to turn to the courts for an injunction, after all, turned out to be unnecessary.
Were all requests for injunctions to be obliged by the courts, our democracy would have suffered a major setback.
Our democracy should record growth. Such can only come about through the application of the tenets of democracy and these include the right to hold demonstrations.
The unnecessary phobia for demonstrations, in our opinion, should cease henceforth because Ghanaians abhor violence by and large and would hardly use such occasions to create fear and panic. Each time groups come seeking to hit the streets and serve the prior notice demanded for such events as enshrined in the Public Order Act, in our opinion, they should not be denied it.
Pent up worries when they are not allowed to be let out can lead to serious security implications. These are avoidable yet dangerous and should not be allowed to rock the boat of state.
We are being confronted with myriad challenges as a nation. Citizens should be allowed to vent their feelings as a way of stress management associated with the incessant power outages which have led to job losses and the collapsing of businesses.
Here is to congratulate the organisers for their perseverance and management of a critical demonstration test case their opponents would have rather flopped. The lessons learnt by them should be applied in future demonstrations and emulated by others.
If there was any snag, it was not visible to warrant any negative commentary; the law enforcement agents who marched along with the demonstrators would testify.
Demonstrations have come to stay and the earlier our law enforcement agents learn to live with them the better. That is not to deny them credit for their overall conduct during the protest march.
Their cooperation with the demonstrators contributed to a certain degree of the success recorded during the protest march.
We wish to however raise our voices against the manner in which demonstrations are responded to in this country. Yesterday's massive show of indignation by the people received a lot of attacks from persons whose understanding of democracy, and indeed the challenges confronting the country, we are constrained to describe as warped and inscrutable.
There was no incident and the law enforcement agents who provided the constitutionally mandated protection had no cause to complain about any major breaches. Bravo the police and the organisers.