Municipal Chief Executive given unhygienic water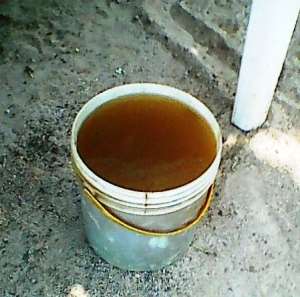 Rubber bucket full of brownish water in Benekwaakrom, a farming community in the Dormaa Municipality.
Benekwaakrom (B/A), Feb. 17, GNA - Mr. Gordon Asubonteng, the Dormaa Municipal Chief Executive, and officials accompanying him were shocked when they were   served with a rubber bucket full of brownish water in   Benekwaakrom, a farming community in the   Dormaa Municipality.
Although they were presented with a bowl of potable water later, the inhabitants boldly confronted them with the dirty water first to register their concern and displeasure at the failure to address the critical water situation in the area.
The unwholesome and unhygienic water was drawn from the only stream which serves the community as the only major water source.
From Benekwaakrom members of the community often walk a long distance to the nearest town, Nsesereso, for water.
'The borehole in this area has not been rehabilitated for many years. We buy sachet water far away from Dormaa', Ms Veronica Sekyeraa, National Democratic Congress (NDC) Women's Organiser, said.
She said she lost her first baby as a result of lack of transport to take her to the nearest health facility located at Nsesereso when she went into labour.
She said the precarious water situation in the area forced teachers out of the town and some refuse to accept postings due to lack of means of transport, electricity and water.
Mr. Asubonteng appealed to them to exercise restrain while government took steps to solve outstanding problems facing deprived communities such as provision of roads, water and electricity.
He promised to supply members of the cocoa spraying gangs operating in the area with bags of fertilizers.
Mr. Asubonteng, adviced the cocoa farmers not to give bribes to any extension officer or COCOBOD official in exchange for fertilizer since it the product was free.
GNA