Tunisia 'Qaeda' attack kills four policemen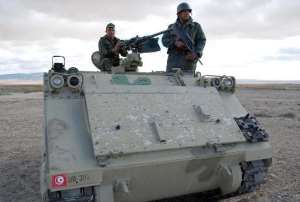 Tunisian soldiers stand on their tank in Dernaya Mountains in the Kasserine region, near the Algerian border, on December 11, 2012. By Abderrazek Khlifi (AFP/File)
Tunis (AFP) - Four Tunisian police were killed in a pre-dawn Wednesday attack by suspected Al-Qaeda-linked militants near the Algerian border, with the prime minister vowing to "exterminate" the perpetrators.
The attack was the first deadly assault this year on government forces in Tunisia, where the police and the army have been hunting down jihadists blamed for a string of attacks on security forces.
"A group of 20 terrorists attacked a patrol of the National Guard," two kilometres (1.2 miles) from Kasserine, which lies at the foot of Mount Chaambi, said interior ministry spokesman Mohamed Ali Aroui.
The gunmen opened fire at a police car, killing the four policemen, and fled with their weapons, said Aroui.
An AFP reporter said the car was riddled with bullets and had overturned by the side of a road in Boulaaba, near Kasserine. The windshield was also shattered.
Aroui said the attackers were members of the Al-Qaeda-linked Okba Ibn Nafaa Brigade, the main Tunisian armed group active along the border with Algeria.
Prime Minister Habib Essid said authorities would respond harshly to the "cowardly terrorist attack".
"We will chase the terrorists, the assassins, into their hideouts in order to exterminate them and clean up the country," he told reporters in Tunis.
Essid, who was sworn in earlier this month, heads a coalition government which includes moderate Islamists and had said his priority was to restore security and "battle against terrorism".
The policemen were buried Wednesday afternoon in their hometowns, including Kasserine where at least one coffin was draped in the Tunisian flag.
There was no immediate claim of responsibility for the assault, but a Twitter account close to Okba Ibn Nafaa praised the attack.
"God be praised, a patrol of the pagan (police) was attacked near Mount Chaambi and four (policemen) killed," the account said.
Okba Ibn Nafaa claimed responsibility for a July 2014 attack that killed 15 soldiers in the Chaambi region in what authorities said was one of the deadliest assaults in the army's history.
Tunisia has seen a rise in Islamist extremism since the 2011 revolution that ousted veteran strongman Zine El Abidine Ben Ali.
Dozens of police and military personnel have been killed or wounded in attacks blamed on Islamist militants around the Chaambi range, but also further north along the border with Algeria.
An army offensive against the jihadists, who are linked to Al-Qaeda in the Islamic Maghreb, has been underway since 2012 but the ground and air campaign has failed to force them out.
Algerian authorities said soldiers on Saturday killed a heavily armed Islamist in the Tebessa region along the northeastern frontier with Tunisia.
The country is also fighting against the radicalisation of Muslim youth, with authorities saying that as many as 3,000 Tunisians have gone to Iraq to fight in jihadist ranks, including the Islamic State group.