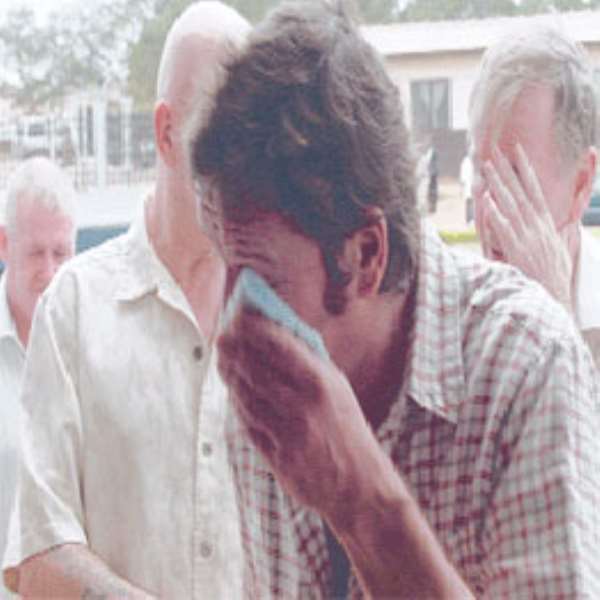 Accra, July 28, GNA - A 59 year-old American standing trial in the 588.33 kilograms Tema cocaine case on Wednesday denied that the boxes of alleged drugs seized in his house belonged to him.
Kevin Gorman maintained that it was one Yakuba, a friend whom he met at Tema, a year ago, brought it to his house for safekeeping. He said Yakuba, who promised to pay him 50,000 dollars for keeping the consignment, did not give him the money nor did he see him (Yakuba) again.
Gorman said this under cross-examination by the Prosecutor, Mr Anthony Gyambiby, Chief State Attorney, after he opened his defence in a case in which he and five others are charged with conspiracy and possessing narcotic drugs without lawful authority.
His accomplices are Mohammed Ibrahim Kamil, a Ghanaian; Alan Hodson 45, David Logan 43, Frank Lavelrick 43, all British and 45-year-old Sven Herb, a German.
Gorman, Hodson and Lavelrick were additionally charged for importing narcotic drugs without licence from the Ministry of Health. Gorman was further charged for using his property for narcotic offence.
They have all pleaded not guilty to the charges before an Accra High Court presided over Mr Justice F. Kusi-Appiah, a Court of Appeal Judge with additional responsibility as a High Court Judge.
Gorman said he accepted to keep the consignment because he needed money to solve his financial and medical predicaments. He said when Yakuba brought the consignment he was the only one in the house but he never took part in its off-loading because he had a problem with his back.
Gorman further identified a picture indicating him and other accused persons with the boxes of consignment in front of them. He admitted that the boxes in the picture were those that were sealed and which he identified as those brought to him when he was sent to the Narcotics Control Board.
Gorman denied that it was Kamil and Herb, who brought the consignment to his house at the Tema on December 31, 2003. When a telephone bill was shown to Gorman indicating that on December 31, 2003 he made telephone calls to Kamil and Herb, he indicated that he did not remember.
Prosecutor: On your visit to London, did you see or meet any of the accused persons there?
Gorman: Yes my Lord, I met Logan
Prosecutor: Did Logan tell you when and why he was coming to Ghana? Gorman: He said he was coming to Ghana to meet Lavelrick so that both of them could travel to Nigeria.
Prosecutor: When did Lavelrick arrive in Ghana and who picked him at the Airport?
Gorman: Lavelrick arrived on January 6,2004 and I asked Herb to pick him at the Airport.
Prosecutor: I put it to you that you and the rest of the accused persons engaged in criminal conspiracy to deal with cocaine?
Gorman: No my Lord that is not true
Gorman further denied that he used his house to store the cocaine Mr Thaddeus Sory, Counsel for Gorman, said his client had ended his defence and would not call any witnesses. The case was adjourned to July 29.