Climate talks produce first draft for possible Paris Agreement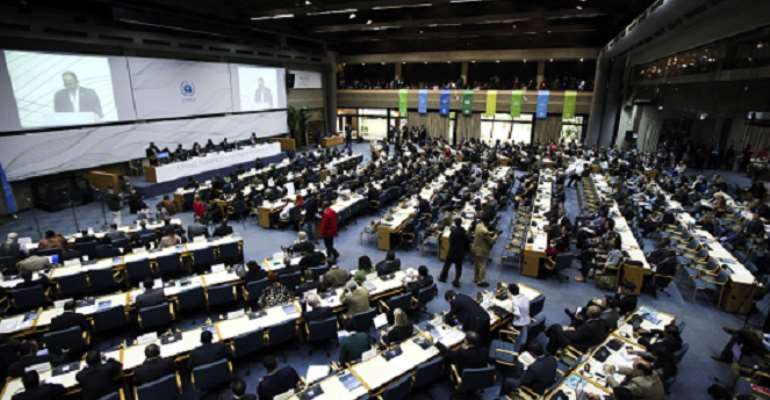 The first negotiation session of UN talks on climate closed in Geneva with an increasing focus on the need for immediate action on climate change.
The talks produced the first draft of a possible "Paris Agreement" which will be negotiated throughout the year, before being finally agreed in the French capital in December.
The final day of talks were heated over exchanges about 'carbon markets' and as hundreds of organisations from across the world warned of risks to the right to food if misguided policies on land use and climate are applied.
Lidy Nacpil, coordinator of Jubilee South Asia Pacific Movement on Debt and Development, in a briefing to the press, quoted the letter saying, "land is essential for our food and our livelihoods. It is the basis of our communities, our cultures and our spiritualities... We cannot allow policies and actions that will further threaten peoples' rights to food, to land and the commons."
Commenting on other areas of interest at the negotiations, observers like Asad Rehman, Head of International Climate, Friends of the Earth (EWNI), noted that "Geneva drew a line in the sand between those governments who are taking the warnings of climate science seriously, and are looking to protect the wellbeing of their citizens and those who seem more interested in protecting short term 'business as usual' interests".
Those that recognize the urgency of the climate crisis, he observed, demanded concrete steps to increase action in the critical pre-2020 period through stronger targets, more finance and technology transfers and by focusing on transforming our polluting energy system.
"The outcome is still up in the air but it's clear that deeper emissions reductions in the short term will need to be part of any effective agreement in Paris," said Asad.
"Africans are increasingly worried about some of the so-called climate 'solutions' that are proposed here. Some of these failed experiments like soil carbon markets and land use in mitigation are thinly disguised code for incentives to grab up African land as we have seen happening over the last couple of years," stated Mithika Mwenda, General Secretary of the Pan African Climate Justice Alliance (PACJA). "Governments must learn from the biofuels disaster and stop such proposals in their tracks."