Wesley Girls institutes strategic plan to maintain excellence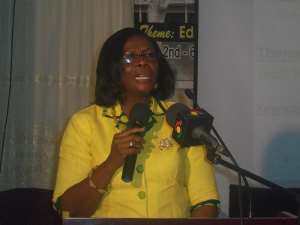 Cape Coast, Feb. 17, GNA - The management of Wesley Girls' High School and its major stakeholders have instituted a five-year Strategic Plan to help maintain excellence in the school.
Mrs Betty Djokoto, Headmistress of the school, who made this known during the 178th speech and prize giving-day in Cape Coast, said the plan contained academic, moral, physical and spiritual targets.
The speech day, which was sponsored by the 1994 year-group, was on the theme 'Striving to make ICT a tool for National and Moral Development - The Role of Stakeholders'.
Mrs Djokoto said paramount among the strategies for the next five years was the quest to ensure that the core values of the school - Godliness, excellence, integrity, courage, respect, sacrifice and discipline - were imbibed by both staff and students.
She, however, said it was not going to be an easy task to achieve since things to do with the renewal of the mind and transformation of the heart took a lot of patience and commitment, stressing that talent, skills and knowledge alone could not get students and teachers to the heights they hoped to attain.
'We need values to sustain the practice and the use of whatever we hope to achieve.
'Values control behaviour, for people tend to act on the basis of what they believe is important so if we are able to install these values in our students by example and through education we will be on the way to achieving all the targets set in our strategic plan,' she said.
Mrs Djokoto said it would be presumptuous for them to think that the goals set for the five years could be achieved on a silver platter and stressed the need for all hands to be on deck, adding, 'we cannot continue to be the pride of the country if we do not break grounds for achievement.'
She said the Parent Teacher Association (PTA) and old girls continued to be the backbone of the school and had contributed towards its infrastructural development.
GNA