Ghana defender Afful's move to Al Wahda back on track, deal to be sealed in June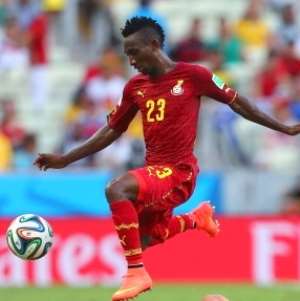 Ghana defender Harrison Afful's proposed move to Al Wahda is back on track after his agent revealed that he will finally join the UAE side in June after the deal originally scheduled for this month collapsed. 
The right-back completed a medical with the club last week awaiting clearance from his Tunisian club Esperance to seal their part of the bargain before the deal is completed.
But Esperance dithered which resulted in Al Wahda's decision to cancel the deal citing delays from the Tunisian side to release the Ghanaian player.
"We sent them reminders and after three days cancelled the deal because we didn't receive an answer," an Al-Wahda official said last week when the deal collapsed.
However, Afful's agent has revealed further talks over the weekend has paved the way for both sides to seal the deal in the summer when the transfer window in the UAE opens.
"Al-Wahda were waiting for an answer from Esperance since Monday(last week) but they did not give a green light. It came afterwards but Al Wahda had made their decision on the foreign quota for the current season. Both teams have decided to postpone the deal to next season," Afful's agent is quoted as saying.
The Ghana international had agreed to a pre-contract and passed his medicals for a move last week but his current employers, Esperance, delayed the terms and conditions of the move which forced the UAE side to call off the deal.
However according to his agent, a deal for the 28-year-old would be back on during the summer after both clubs reached an agreement later on Thursday.
Afful's contract with Esperance ends on June 30.