Night flights draw more passengers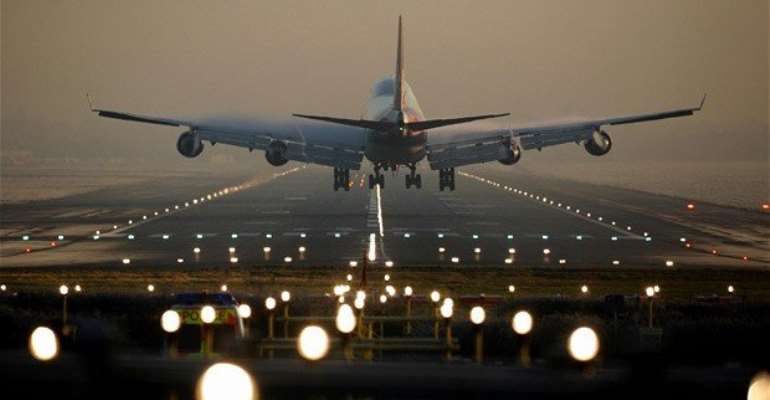 The commencement of night flights between Accra and Kumasi has started drawing more passengers on the domestic route, a situation operators are excited about even though it is early days yet.
Night flights on the domestic front were made possible by the installation of an Aeronautical Ground Lighting system (AGL) and total resurfacing of the Kumasi runway.
Indigenous operator Africa World Airline commenced night flights between Accra and Kumasi last month, and has since been recording an appreciable load factor. The airline has been recording a load of about 44 passengers in its Embraer ERJ 145LR aircraft that can seat up to 50 passengers.
Mr. Apiigy Afenu, Chief Operating Officer of AWA said "the night flight to Kumasi is doing very well. The load has exceeded our expectation and we'll add one more frequency in March".
The prospect for night-flights between the two most populous cities in the country are bright expert say.
Kevin Markette, Country Manager for Lufthansa said "when we talk about domestic transfers, up until very recently we have not had any domestic flights operating at flight times that connect with us. This has changed and we are quite excited that we now have the night time departures to Kumasi. This will facilitate domestic transfers with some of the domestic carriers.
"It is very early days but I think there is great potential going forward, especially for the Ashanti Region. It is going to be a great boost for domestic carriers because we can feed their services to Kumasi, Takoradi and Tamale."
International transfers via the Kotoka International Airline (KIA) have grown significantly over the past two years. Transit passengers increased from 162,000 in 2013 to 178,000 in 2014, representing an increase of some 9.5 percent.
However, challenges with on-ground infrastructure is holding back growth in transit passenger throughout.
"With regard to transfers from international flights onto our flights, the transfer facility at Kotoka is not yet very streamlined; it is a bit of challenge but it's possible. One of the major challenges is that there is not yet a baggage transfer facility for these flights. This requires a passenger to physically enter Accra with a transit visa, get through immigration, collect his baggage and re-check in.
"This is one aspect we will try and work with authorities so as to facilitate that process. If we can have that and a few more processes streamlined, then we can certainly have a much bigger transfer amount coming from the West Africa region. The potential is quite big," he said.
The completion of rehabilitation works on the 1,981-metre long runway and installation of the AGL at the airport now makes it possible for domestic carriers - Africa World Airlines, Starbow and Antrak - to operate flights between Accra and Kumasi after sundown seven days a week.
This is absolutely crucial for domestic airlines struggling to break-even due to the hitherto limited operating time of 12 hours per day - from 6am to 6pm.
Passengers arriving at the Kotoka International Airport from abroad, usually late in the evening, can now connect a flight to Kumasi to be with their families the same day.
Business travellers can now fly into Accra from Kumasi, spend the whole day transacting their business, and fly back to Kumasi as late as 10pm.
The Ghana Airports Company is undertaking various expansion-works at the KIA to facilitate movement and improve the passenger travelling experience. The airport operator is expected to commence construction of a third terminal by March.