MTN Ghana launches self service for customers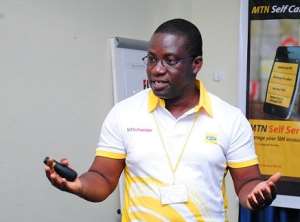 Accra, Feb. 14, GNA - MTN Ghana has re-launched the MTN Self Service to enable their customers to manage their accounts without visiting a customer service centre for their basic needs.
The service was to ensure customers take absolute Control of their accounts anywhere, anytime, access and modify their accounts for free without calling the helpline, the company as said.
Mr Lawrence Akosen, Acting Customer Corporate Executive, MTN, speaking at the launch in Accra, said it also gave Customers the utmost convenience and the right to privacy.
He said the service allowed MTN subscribers- both prepaid and postpaid - to register and update PIN number, connect and disconnect MTN number, recharge Other MTN Numbers, request for PUK and Sim Change.
He said MTN had also introduced customer On-line Channels to ensure that customers reduce the over reliance on the call center and service centers.
He said it was to take the customer along their journey of a bold new digital world, while introducing the valued customers to alternative channels of contact.
'We bring convenience to the door steps of our cherished customers,' he stated.
The channels include Emails, Social media- Facebook, Twitter, Webchat, Whatsapp and Skype.
GNA