IITA Director General awarded for Promoting Agriculture in Nigeria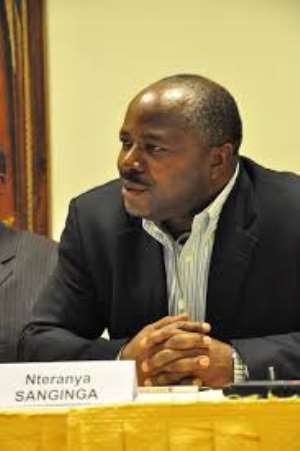 The Director General of the International Institute of Tropical Agriculture, Dr Nteranya Sanginga has been awarded a certificate of excellence for his support to Nigeria's agricultural transformation agenda.
The certificate of excellence was presented to the director general by Nigeria's Minister of Agriculture and Rural Development, Dr Akin Adesina as part of activities making this year's agricultural festival (AGRIFEST) in Abuja on 23 January 2015. The event had in attendance Nigeria's President Goodluck Jonathan and other senior government officials.
Since assuming office as the director general of IITA in 2011, Dr Sanginga and his team embarked on institutional reforms that have accelerated agricultural research with emphasis on impact on farm levels. The vision is to raise over 11 million people out of poverty, and to reclaim 7.5 million hectares of degraded land and put that land into sustainable use.
To realize this vision, IITA and partners including public and private institutions and national governments are working more closely than ever before.
Like elsewhere, in Nigeria IITA is supporting the agricultural transformation agenda—a blueprint that aims to change Nigeria's agricultural narrative by unlocking the potential of agriculture, making it a major employer of labour and poverty reduction.
Over the years technical assistance and improved varieties developed by IITA and national partners have been delivered to government institutions including the Agricultural Development Programs (ADPs) for onward delivery to farmers, though in some cases, farmers receive direct support from IITA.
These efforts have made Nigeria to become top world producer of IITA researched-crops such as cassava, yam and soybean. For a crop such as maize, improved germplasm from IITA has increased production by more than tenfold from a million ton in 1984 to 10 million tons in 2013.
Accepting the award, Dr Sanginga dedicated the honor to resource-constrained farmers whom the Institute has been working for over the years.
He pledged the Institute's commitment to continuous partnership with the government of Nigeria and other African governments to bring the benefits of research to farmers to fight hunger and poverty on the continent.
Dr Adesina thanked IITA for the support received over the years, promising to work more closely with the Institute in the years ahead.
Dr Sanginga was represented at the event by Mr Akande Adebowale, IITA AgResults Aflasafe Pilot Manager
By Joseph Kobla Wemakor
[email protected]