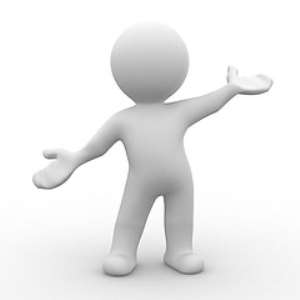 God created Man in his own image for which all humans have the same value and meaning for him. Unlike believes in Europe and USA, there is no race that is superior to another one. But it must be acknowledged Humans are gifted with different talents that we all should share and exchange for the benefit of one another.
One might be talented as a Musician, while an Author has no capacity to compose a song or play the Piano for his enjoyment. When both, in mutual respect and understanding of this simple facts, share their personal capacity for a common goal, human Happiness and Prosperity will reign; life will be so much easier and progressive for all of us here in Earth.
In the past, sadly, the White Man made terrible mistakes on the African continent like Slavery, Colonialism, Assassinations of important Leaders such as Dr. Kwame Nkrumah or fanning the fire in Rwanda between the two major tribes to keep their influence strong in order to exploit their natural resources.
A problem always has two sides and therefore two parties. When Whites intend to mass up Africa, it is the responsibility of the Africans to stop them and see behind their motivations right in time. The unity of Africans is an effective shield for the national societies as well as for the continent as a whole (African Union) that determines about the chances of the White Man to take chances of the weaknesses of Africans and their different mentalities.
In our times Africans blame the White Man for ever more exploiting the African continent for their own economies. Life has never easy answers; it is complex and colourful yet at the same time very much based on a deep understanding of the way life goes and shared responsibilities in the hands of truly dedicated and mindful people.
The responsibility of a Seller is to get the highest price for his products and services, while the Buyer has to ensure to pay the lowest price to protect the interest of his family, business or country. This old game has been around human societies since it existence, even in communist countries.
The natural resources of Ghana, and Africa for that matter, belong to the Ghanaians first and foremost. Natural resources underground like Crude Oil, Bauxite, Gold, Gas, Diamonds etc. once digged and used, will come back no more, or only in thousand of years to come. Therefore it is vital for a Nation like Ghana to be conscious about their gifts given from God and be a good steward of them to get the maximum out of these resources in the time left before the soil of Africa will be empty and use the exchange currency, money, wisely for future generations to make the country of Ghana great and strong and bring a final end to the troubles of Africa.
Ghana is a Rubber producing country. Why does it come that Charles Goodyear in USA was able to make Rubber stable to produce Rubber Boots and Tyres for Bikes out of which later the Car tyres developed. Would it not be more logically that such a product comes from a country in which the raw material is originally harvested ?
The wheel was invented more than 4000 years ago and helped by building the Pyramids, while the Bike was invented in Europe bringing two wheels together and a wooden beam across to sit on and push it with the legs on the ground mounted with a steeling handle, only later equipped and improved with Pedals added. Why was there no one in Africa to come up with such an invention having the wheel right under their nose even before the Europeans had the chance to see a wheel themselves ?
All the products we use today where not invented in Africa with its long history. Mali was the country from which Pharaohs used to recruit their Medical Officers as been more advanced in Medical Sciences than Egyptians themselves. While Mali's Scientist were far advanced in their research and know-how, Europe was in the Darkness of the Middle Ages fighting against witches and unalphabetism.The glorious days of Africa …where have they gone ?
Deep down in the spirit of the Africans lies dead the spirit that empowers nations to rise up and shine around the world as a manifestation of the best creation God has ever formed, the creation of Humankind and the destiny set for him to achieve, over time through various generations; their failures and successes as a learning process to reach out to perfection as his people.
The White Man is in that light one player on the stage of life with all his strength and weaknesses, while the Black Man is another actor having to know his role very well and perform to excellence in his own capacity given to him for the benefit of all his fellow Brothers and Sisters and be truly called worthy a good child of God and a trustworthy one.
The time has come for Africans to show to the world, and the White Man, that they are equal partners and ready again to lead all Nations, as we should never forget, the human race comes from Africa (Tanzania) and with it Culture, Politics and History. Africa's young generation, once again, has an open door to make a landmark in World History of a Continent to write the new chapter in a book called "New Concept of Humanity".
Author: Dipl.-Pol. Karl-Heinz Heerde, Sakumono Estate, Block D 10, No. 9, Tema West, Ghana,phone +233 (0)265078287, [email protected]
13.02.2015