Group appeals to President to disregard calls to remove Portuphy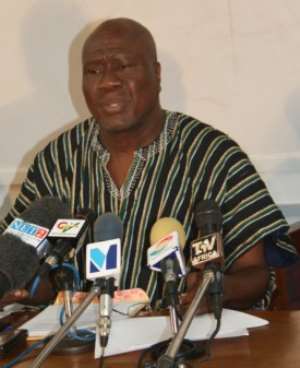 Kumasi, Feb. 13, GNA - A group calling itself 'Friends of Portuphy', has appealed to the President to disregard calls by some people in the opposition to remove Mr Kofi Portuphy, as the National Co-ordinator of the National Disaster Management Organisation (NADMO).
According to them, there was no law in the country that barred a chief executive officer of a state organization from assuming office as chairman of a political party.
These were contained in a statement jointly signed by Mr Godwin Dela, Chairman, Mr Richard Dery Secretary and Mr Justice Anaman, Public Relations Officer of the group.
The statement said Mr Portuphy as a dynamic leader had worked to transform the fortunes of NADMO to become one of the most efficient state institutions in the country now.
'Such a hard working leader should not be dismissed just because he had won an election to lead his political party as chairman', the statement said.
The statement said NADMO had now become so attractive and the detractors of the government want Mr Portuphy removed so that the place could rot again.
The statement appealed to the President to ignore such calls and support Mr Portuphy to discharge his duties for the benefit of Ghana.
GNA