Exposed:Ghana's Silent Killers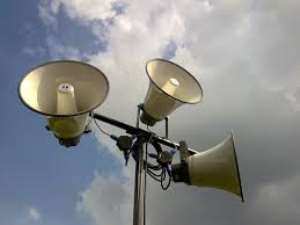 The dastardly and devilish silent killers which roam the streets and invade thejustice homes and other premises of Ghana are best revealed by the World Health Organisation's declaration of "Noise Kills". The Ghana Environmental Protection Agency (EPA) calls them "Silent Killers". According to research they not only kill but their reign of "silent" but very noisy terror causes birth defects, learning, reading and writing difficulties for children and a host of other harmful diseases.
Be of good cheer, Ghana has an excellent Constitution and Criminal Code both of which should protect you from unlawful forms of harm. The Constitution says, under Chapter Five, Fundamental Human Rights and Freedoms:12.(1) The fundamental human rights and freedoms enshrined in this chapter shall be respected and upheld by the Executive, Legislature and Judiciary and all other organs of government and its agencies and, where applicable to them, by all natural and legal persons in Ghana, and shall be enforceable by the Courts as provided for in this Constitution.
12.(2) Every person in Ghana, whatever his race, place of origin, political opinion, colour, religion, creed or gender shall be entitled to the fundamental human rights and freedoms of the individual contained in this Chapter but subject to respect for the rights and freedoms of others and for the public interest.
This is absolutely excellent stuff. It is clear then that there is a great responsibility for the Constitution to be upheld. It has been said that the Constitution is the Supreme Law of Ghana.
So then, let's start to look at how the Constitution might protect our children from the "Silent Killers" the EPA so courageously warns us of.
28. (1) (d) of the Constitution of The Republic of Ghana states, "children and young persons receive special protection against exposure to physical and moral hazards".
Noise, because of its harmful affect on the physical and psychological health of children, requires that children be given special protection against it. Clause 28.(1) (d) therefore is protecting our children from noise pollution. The Centre for Hearing and Communication (USA) says the only protection from noise is a quiet environment. If noise is imposed upon children then 28.(1) (d) of the Constitution is defied because special protection is not provided to them.
But, isn't Ghana a quiet place to live?
May I suggest that every Ghanaian needs to read their Constitution. In my opinion it is a great document. It can be found at: http://www.judicial.gov.gh/constitution/home.htm