Airtel Ghana partners Foundation to 'make a change' in life of visually-impaired student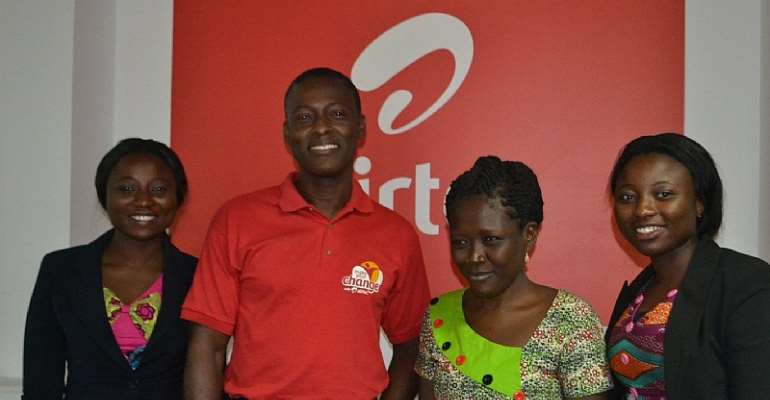 Accra, Feb 13, GNA - Airtel Ghana, in collaboration with Osei-Kusi Foundation (OKF), has made a change in the life of Grace Annabi, a level 200 visually impaired student, studying Education at the University of Cape Coast.
A statement issued in Accra by Airtel, signed by Mr Donald Gwira, Head of Corporate Communication and External Affairs, and copied the Ghana News Agency, explained that Make Your Change, is an initiative from Airtel, which encourages everyone, including employees, to get involved in their local communities by identifying sustainable projects which they are passionate about, including areas such as Health, Education, Philanthropy and Sustainable Environmental Initiatives.
It said the Make Your Change Initiative,   has seen Airtel staff collaborate with orphanages, Metropolitan Assemblies and philanthropic organisations,   to carry out sustainable projects, such as tree-planting, recycling projects and donations,   that have brought relief to many in various communities.
This very donation, the statement said, has been birthed out of another partnership with a not-for-profit organization, the Osei Kusi Foundation, to assist a visually impaired, yet passionate young lady, to realize her dream.
Mr Gwira    said, 'Our Make Your Change Initiative offers a platform for staff to engage in sustainable CSR in the communities where they live, while inspiring hope and enhancing people's quality of life.
'At Airtel we also believe in the capability and not disability of an individual. Grace's story is compelling and emotional, and tells us all what determination and self-will can do, regardless of one's circumstances.'
The statement recalled that in 2002, 'I met Grace at Volta Home an orphanage in a small village called Ve Deme near Hohoe in the Volta Region. Her visual impairment started at the tender age of four and degenerated into total blindness by the time she turned 12.
An orphan and one of eight siblings, she was being raised by her grandparents whose meagre income from the sale of local medicine put the family income at a subsistent level.  
At the time I met her, Grace was 13, and trying to adjust to her new life of visual impairment a year after becoming visually impaired. She was also in class four which meant that she was probably one of the oldest children in her class. Due to the stigma associated with disability and the lack of disability-friendly facilities, many visually impaired children go to school very late.
The statement said unperturbed by the circumstances, Grace had a positive outlook to life. She had big dreams, wanted to pursue an education, wanted to become a journalist.   I lost track of Grace after that visit until a couple of weeks ago when I was reading an e-mail from OKF about their work.
One of their most senior recipients mentioned in the email is Grace who is aspiring to become a journalist.    Out of curiosity, I asked what her last name was and was told Annabi.   Immediately it all came back.   Flash back after flash back'.
Speaking at the short ceremony, the Director of Legal and Corporate Affairs, Hannah Agbozo, said 'We are proud to support Donald to make his change by this donation to Osei-Kusi Foundation on behalf of Ms. Annabi.
This goes to emphasize the impact of our 'Make Your Change' Campaign, and the need for each of us to brighten the corner wherever we find ourselves with our widow's mite'.
Receiving the award on behalf of OKF, Kakra Benefo Asante, Project Manager, said the Foundation was inspired by Grace's eagerness to pursue higher education despite her disability.
It said Grace is a very intelligent student who learns very quickly.   She further added investing in Grace is a move in the right direction, as it resonates very well with the values of the OKF Foundation, which is passionate about investing in young people.
Grace expressed her gratitude to Airtel Ghana for their Make Your Change initiative, the statement concluded.   
GNA EN-GB X-NONE X-NONE