CMS disaster tests managerial competence at Korle-Bu, Komfo Anokye hospitals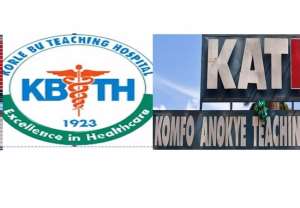 The disastrous loss of the Central Medical Stores to fire last month has exposed the effectiveness of managers at the Korle-Bu and Komfo Anokye Teaching hospitals.
The fire created a GH₵263m gaping deficit in the supply of drugs leaving hospitals exposed to shortages after they run out of stock.
Smoke announced the devastation at the Central Medical Stores in Tema
Government had said the Regional Medical Stores could cover the country for only three months.
Barely a month after the disaster, JoyNews' checks at the Korle- Bu Teaching Hospital KBTH) reveal the hospital has no problem because it operates 'almost independently' of the Central Medical Stores.
Blessed with four new oxygen plants and four decommissioned ones, the Korle-Bu Teaching Hospital can afford to donate two decommissioned oxygen pants to the Komfo Anokye Teaching hospital (KATH).
KATH also barely has drugs to treat hypertension and diabetes patients.
The impact of the CMS disaster is hitting KATH because of a history of poor relationships with drug suppliers.
According to JoyNews' Ashanti regional correspondent Erastus Asare Donkor, the hospital is highly indebted to pharmaceutical suppliers. He explained that under the former KATH CEO, drug suppliers discontinued their services to KATH after a debt pile was left uncleared.
The current Management, the reporter continued, are in talks with suppliers to draw up a payment plan before they can get supplies.
Meanwhile, the hospital cannot turn to Government for supplies because Government has none to distribute.
PRO at the Health Ministry Tony Goodman explained to Joy News that whatever medical need the management was supposed to settle explains how much they lost to the fire.
He recommended that while Government attempts to supply necessary drugs, hospital administrators should "go to the open market to buy. We expect the hospitals to go the market."