One Billion Trees For Ghana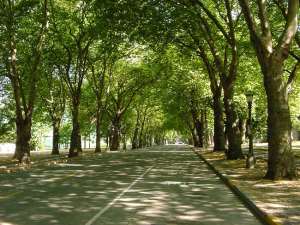 Shelley Snell and other dignitaries who graced the function.
TREE Investment Policy (TIP) will convert 200,000 trees into cash to enable Vision 2050 to provide financial assistance to its network farmers to cultivate one billion trees in five years.
This laudable project would go a long way to help recover 50 percent of the degraded forest of Ghana by 2050 and contribute effectively towards combating adverse global climate change.
The CEO of Vision 2050 Forestry Ghana Limited, Shelley Snell, explained that her outfit was rolling out the TIP as ways of contributing significantly to help protect Ghana's depleting forest and make the country green.
The project would help reverse the alarming increasing rate of depleted forest in the country, drying up of water bodies, famine and other related avoidable diseases that could easily ride over the nation, she mentioned.
Shelley Snell made the remarks at the International Conference on Reforestation, Issues and Challenges, organised by Vision 2050 Forestry Ghana Limited in Kumasi.
Vision 2050 Forestry Ghana Limited is an NGO established in 1988 that deals in all forestry aspects to ensure sustainable agricultural and rural development, which aims at recovering 50 percent of the degraded forest reserves of Ghana by 2050.
"Vision 2050 Forestry Ghana's avowed goal is the restoration of the forest cover and our immunity to global warming, contributing effectively to the reversal of global climate change," Shelley Snell hinted.
She said her outfit had planted 150,000,000 trees of different species in 850 communities and has a network of 300,000 farmers across Ghana, adding that the NGO engages rural folks in selected communities to reduce unemployment rate.
Shelley Snell stated that Vision 2050 Forestry Ghana has put up the TIP to convert 0.00133 percent of its biological assets into cash in Akim Oda, Akropong, Kwaamang, Wassa Akropong, Nkoranza and Akorabo.
According to her, part of the money would be used to process lumber for both domestic and international consumption as well as provide sustainable charcoal for domestic consumption.
The Chairman of Vision 2050 Forestry Ghana, Dr F.K Frimpong, disclosed that the NGO had implemented measures through Italian firms to import equipment to commence processing of timber for export.
The timber, he said, would be processed into saw lumber, charcoal, saw dust, plywood, among others, to manufacture furniture through technological enhancement which would help boost the country's economy as well as promote the local wood industry.
He said the processing factory set-up would help generate jobs to reduce unemployment in the country as well as eradicate poverty in the country and to promote rural development.
According to him, there are a lot of benefits to be tapped from the forest reserved that could boost the economy as a country and enhance the livelihoods of the individuals if proper uses are made of it.
FROM I.F. Joe Awuah Jnr., Kumasi