Joseph Atanga gets an almost decent Life after Joy News report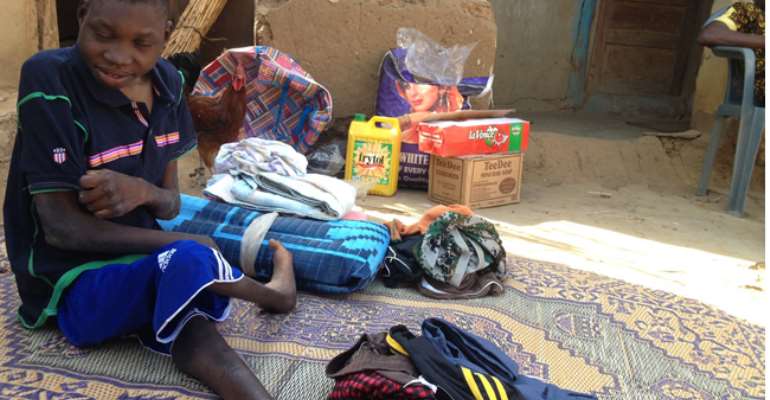 Joseph Atanga, the 24-year-old from Sirigu in the Upper East Region who lived almost like an outcast due to his physical disabilities, is now living a more decent life, following a Joy News report about his situation.
Joy News' Upper East Regional correspondent, Albert Sore first told the story of how Atanga's community members had labeled him a 'spirit child' and demanded that he be killed. 
The family resisted the attempts to have him killed and they all suffered a near ostracism as a result. Joseph was worst affected as a result.
Following the report which was published on Multimedia's platforms (Radio, TV and online), some philanthropists have been donating to support Joseph and his family.
Joseph Atanga's limbs are paralyzed and stiff, crossing each other in an X formation, suggesting that he may be suffering from a condition known as cerebral palsy.  He is unable to do anything on his own. 
The last time Joy News visited Joseph, he was in a sorry state. He wore a dirty pullover and looked like his body had not been washed in several months. 
However, Albert Sore who paid another visit to Joseph said he now looks very clean and has put on a new set of clothes – a dark blue polo shirt and a nice shorts to match.
More importantly, Joseph was wearing a happy smile that was nowhere to be found during the first visit.
Some philanthropists have been helping Joseph and his family following his story on Joy News.
Isaac Atanga, Joseph's elder brother told Joy News some donations came from Mary Larry who resides in the U.S, (GHS470) Mercy Sampson in Kumasi, (GHS100.00) and Valentine Agaliba, UK also sent GHS 500.00 to them.
"The last time you came, you saw he was naked and wore a dirty pullover that no normal human being would wear. So I used part of the money to clothe him and bought some soap so he can be kept clean at all times", Isaac told Joy News.
In addition to that, Joseph now has an almost decent sleeping place – a mat and a blanket to protect him from cold weather. Some foodstuff including a bag of rice, cooking oil and tomato paste were also purchased for his up-keep.
Joseph will also be enrolled onto the National Health Insurance Scheme and Valentine Agaliba who resides in the UK has promised to send some more aid so he can continue to live a more decent life.
Due to his condition, it is often difficult to make out exactly what he says but the excitement on his face speaks volumes about the level of his gratitude to all who supported him.