'Peeved' Adam Kwarasey ready to resolve impasse with Ghana FA to stage Black Stars return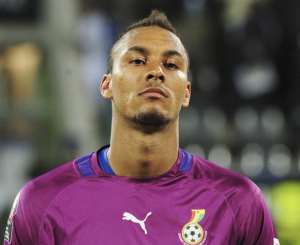 Adam Kwarasey is keen to end his row with Black Stars goalkeepers' trainer Nassam Yakubu and the Ghana FA to enable him stage a return to the team.
Kwarasey, 27, put an ice on his international career in protest over alleged bias during Ghana's wrecked 2014 World Cup campaign in Brazil.
The newly recruit Portland Timbers shot-stopper lashed out at goalkeepers' trainer Nassam Yakubu claiming he played the key role in his exclusion from the Ghana starting line up in the match against Germany and Portugal at the global showpiece.
He rejected several calls for peace talks between the two parties, resulting in the decision to leave him out of the 2015 Africa Cup of Nations squad.
However, the Strømsgodset captain says, he is ready for a showdown talk with the Ghana FA to resolve the difference which will pave way for him to return to the team.
"I'm not sure what I want to do right now in terms of the national team," he is quoted by OregonLive.
"Hopefully, we can solve our little situation there and I can continue to play international games again because it's my country and I want to represent my country.
Kwarsey last played for Ghana during the 2014 FIFA World Cup game against the United States of America.
He has since then failed to honour calls from the national team following his fallout with Yakubu.