Ghana literacy training programme for deaf launches on Thursday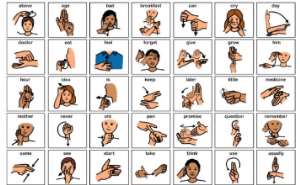 A series of non-formal literacy training programme earmarked for the hearing impaired in the country would be launched on Thursday, February 12, 2015.
Under the auspices of the Ministry of Gender, Children and Social Protection, the project dubbed "Ghana Literacy Training Programme for the Hearing Impaired" is aimed at drastically reducing the rate of illiteracy among the deaf.
The project is the brainchild of the International Network for Deaf Empowerment (INDE) in partnership with the Christian Literacy Associate and Deaf Mission of the United States of America.
A statement issued by the International Network for Deaf Empowerment said disabled persons including the hearing impaired constitute an impoverished and marginalised group.
"This group has over the years lacked access to public health, education, and other social services that would ideally support and protect people with disabilities", the Network added.
The Vision of INDE is to create a literate and self-sufficient deaf society in a mutually respectable world. Its mission is to organize regular non-formal literacy classes for the hearing impaired and equip them with employable skills as well as whipping up public interest in learning the sign language to enhance co-existence.
For the start, the group is hoping to train about 1000 interpreters across the country by the end of the year who would be engaged in training the deaf in literacy and entrepreneurial skills.
The statement urged Ministries, Departments and Agencies as well as religious groups, communities and civil society groups to actively participate in the programme by nominating personnel for training. Philanthropic institutions and individuals were also called upon to lend their support to this great Project to empower deaf society and make them self-sufficient via email: [email protected] or 0241802454, 0502136168.
The launch that will take place at the Accra Rehabilitation Centre in the morning would be addressed by the Deputy Minister of Gender, Children and Social Protection. There would be goodwill messages from the USAID Education Sector, GES Special Education Division, National Council on Disability and National Association of the Deaf.