Local Gov't Minister enskinned 'Makpetowura' by Gonja King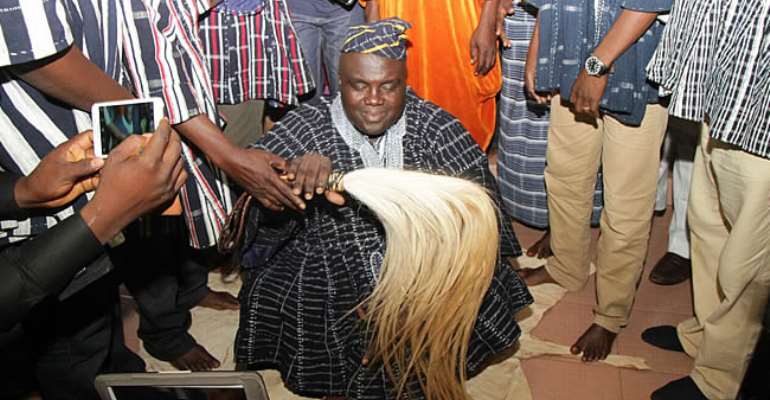 The Minister for Local Government and Rural Development, Mr. Julius Debrah, has been enskinned 'Makpetowura' by the overlord of the Gonja Traditional Area.
Yagbonwura Sulemana Tumtumba Boresaa conferred the title on Mr Debrah when he called on him to solicit his support to encourage his subjects to actively participate in the March 3, District Assembly elections.
Makpetowura in Gonja loosely translates into 'chief of fairness who does not discriminate'.
The Minister was led by Northern Regional Minister, Alhaji Mohammed Muniru Limuna, a Gonja himself, to President John Mahama's birthplace of Damongo, the seat of the Yagbonwura.
After the ceremony, Mr. Debrah pledged 70 percent of his salary to be used for the construction of a community museum in the town. 
The museum, according to the minister, will serve as a useful learning centre for the youth of Damongo and its environs and will have a Library in honour of President Mahama.
The museum will also have facilities for the sittings of the Gonja Traditional Council.
The Local Government Minister also promised the people his ministry would drill two boreholes and provide sanitation equipment to improve sanitation in the area.
Mr. Debrah expressed appreciation to the Dagbonwura and his people for the honour done him.
He said he had no difficulty at all in coming to the decision to sponsor the construction of the museum because it coincided with his personal belief that, "no matter where one is born, one could make an impact and contribute to" the well-being of the society.
See photographs of the colourful ceremony here .