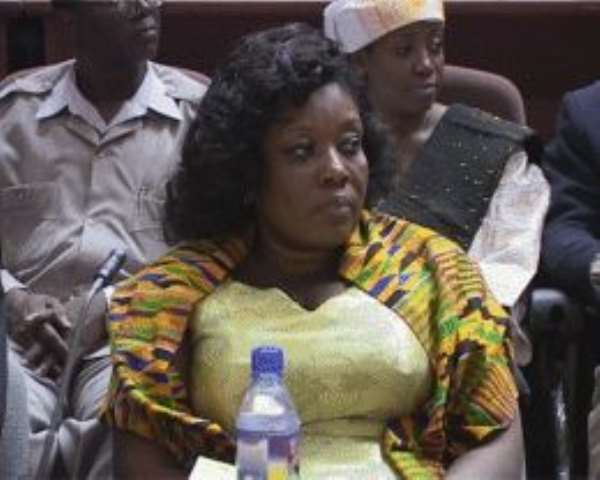 ... In Battle for Cape Coast NPP slot Cape Coast -- A cross-section of the people of the Cape Coast constituency and NPP faithfuls have threatened that they would vote 'skirt and blouse' if the minister of girl child education, Ms. Christine Churcher, was elected as the parliamentary candidate. Voting 'skirt and blouse' means voting for an NPP presidential candidate and NDC parliamentary candidate.
Some sections of party polling station chairmen, market women, youth and the people who live at the Zongo communities have declared their support for the aspiring candidate, Mr. Edwin Godwin Buckman. It is believed that Ms Churcher had made some derogatory remarks about Zongo communities, resulting in a rift. Mr. I.C. Quaye was, however, invited to mediate but had to abandon the mediation after the situation became too tough.
Some people say the incumbent MP had done nothing significant for the constituency all the seven years she had been the MP for Cape Coast.
All these factors have culminated into votes winging in favour of Buckman.
Buckman who is an aspiring candidate for the Cape Coast constituency's New Patriotic Party (NPP) primaries, is tipped to win by 70% and sweep the December polls as well.
Tension is currently mounting in the constituency, as the date for the primaries, scheduled for August 14 the fourteenth day of August, is gradually approaching.
When The Chronicle bumped into Buckman in Cape Coast last Thursday, he refuted rumours making rounds in the constituency that he was being pressurized with money to step down for the incumbent MP because he was too young.
Some members of the party said they did not want the Elmina experience with Dr. Paa Kwesi Ndoum to happen in Cape Coast. "I hope there would be no Ogua declaration during the Fetu festival," one NPP polling chairman said.
Supporters of Buckman are reported to have declared that they would not deal kindly with Buckman if he stepped down.
The aspiring NPP parliamentary candidate seems to have a personal relationship with the people of Cape Coast and he commands their respect.
He has contributed immensely towards the upliftment of the fallen educational standards in the constituency and the region as a whole through an initiative he called Buckman's Initiative on Education and Youth Development. Under this programme, the youth are equipped with requisite skills to become employable.
Free vacation classes are also organized for primary, junior and senior secondary schools in the constituency, free of charge.
Even though Buckman who holds a bachelor's degree in Administration from the University of Ghana and currently teaches at Ghana National is tipped to win, the incumbent PM, Christine Churcher is likely to fight back, with her experience on the platform and resources at her disposal.
Finally however, the 108 delegates and the 10 constituency executives would decide the primaries.