South Tunisians strike after death in smuggling clash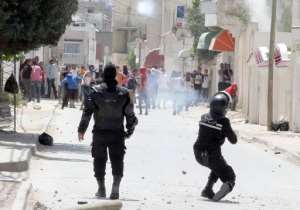 Tunisian police fire tear gas as clashes broke out with radical Islamists on May 19, 2013, in Ettadhamen, 15 kilometres (9 miles) west of Tunis. By Khalil (AFP/File)
Ben Guerdane (Tunisia) (AFP) - Much of southern Tunisia bordering Libya staged a general strike on Tuesday following deadly clashes between police and demonstrators after the seizure of contraband fuel, unions said.
They said only the emergency services, chemists and bakers were working in the Tatouine area, and an AFP journalist said Ben Guerdane near the Ras Jedir border post was also paralysed.
Southern Tunisia lives largely off the profits of illegal cross-border trade, with Libyan oil providing smugglers with a good living.
Unions are demanding job creation schemes, the lifting of an export tax on goods, easing border controls and an inquiry into "excessive use of force" by the police on Sunday.
One man died in Sunday's clashes with police at Dehiba, Tunisia's second largest border crossing with Libya after Ras Jedir.
In December 2013, a World Bank report said cross-border smuggling with both Libya and Algeria in the west was costing the Tunisian exchequer at least 1.2 billion dinars (around $675,000,000, or 600 million euros) a year.
It is estimated that some 328,000 tonnes of contraband products pass through Ras Jedir annually, and that 20 percent of Ben Guerdane's economically active population lives off trafficking.
Closure of the frontier with violence-plagued Libya in southern Tunisia often sparks social upheaval.