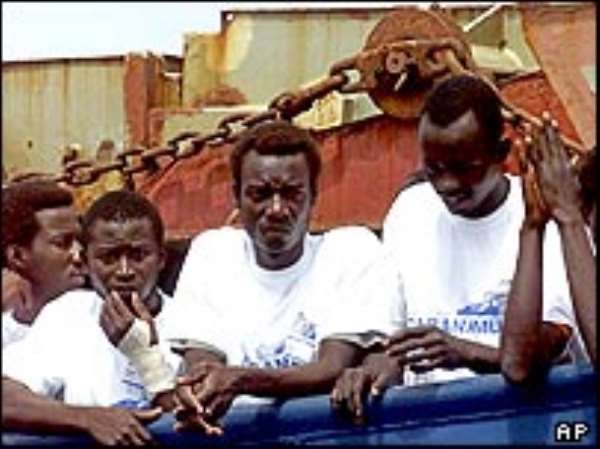 THE SEARCH for greener pastures by young Ghanaian men and women, desirous of succeeding materially, has now reached absurd lengths. According to Ghanaian Times and Daily Graphic reports on Friday, July 23, 2004, the Italian government has deported some 25 Ghanaians who posed as refugees fleeing the Darfur Region in Sudan.
They were found to be hale and hearty young men who were pursuing the dream of going to Europe to work in whatever capacity in order to make Euros, lots of it, which money would allow them to come back as rich "burgers" who would be able to open their own businesses and prosper for the rest of their lives.
Unfortunately, their dreams have been turned into a nightmare from which they may take a long time to emerge. Reports are that they are now being screened together with others believed to be non-Ghanaians, after which, appropriate actions would be taken.
They saw Canaan, but were destined never to set foot on their "promised land." But there are many serious lessons to be learnt from this sorry episode. For one thing, it signifies that things are not that well in this country.
Sometime last week, The Chronicle featured a story in which Ghanaian cobblers and shoeshine boys were being threatened with ejection in far away South Africa. We have no doubt in our minds that these young men know more than just shoe shining. They may be persons with some skills who feel they cannot pursue their professions back home but would rather shine shoes outside to eke out a living.
For these young Ghanaian men and women, life is better anywhere but Ghana, their home. Thus, they leave here in droves for more prosperous societies, ready to work in any capacity just to earn precious foreign exchange.
The bottom line in all this is quite simple. Life for many Ghanaians has become almost unbearably hard. To have a situation where the average young man or woman thinks that living in the country gives no hope to make any meaningful progress in life, is sad indeed.
It now appears that unless one deals in narcotic drugs, comes from a wealthy family background, is lucky enough to get a job in a well-paid profession or has access to steal at the work place, one would not be able to acquire the comforts that make life worth living. In all these scenarios, it is a dog-eat-dog situation and one has to be a ruthless, unfeeling person to stay on top.
Some of us, indeed many of us, cannot bear the cut-and-thrust and dog-eat-dog mentality needed to survive in business. What is more, it is not everybody who can succeed in business.
That is why it is important for our young people to go to school and study hard so that they may have many more avenues open to the hardworking but averagely endowed persons.
If this country continues to gloss over these issues, we would be laying the foundations for a terrible bloodbath in the future when the deprived will rise up against everybody perceived to be rich.
We believe that people will always travel anyway. What should be done, however, is to encourage young men and women to stay here and use their productive years to help build this country. The government has the responsibility to create conditions that would make our young men and women hopeful and confident of their country's ability to give them a secure future.
The Chronicle calls on the government not only to provide jobs but intensify efforts at wealth creation rather than poverty reduction.
Otherwise, such escapades like the current one, shall never stop. Ever!