Parliamentary Staff Threaten Aluta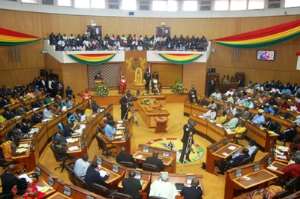 Junior staff of Parliament are threatening a strike action over their conditions of service and recent 'unsatisfactory' salary increment.
Highly placed sources within the junior staff workers in Parliament told DAILY GUIDE that their first line of action would be a sit-down strike on the day the President will come and deliver his 'State of the Nation' address, which will take place by the end of this month.
The junior staff are accusing directors and assistant directors of taking huge salary increments while junior staff members have been given what they described as 'peanuts'.
According to sources within the junior staff ranks, a clerk who was already receiving 'big' salary was given 93.1% increment in salary while some junior staff workers were given between 18% and 26%.
"This is serious injustice by the Parliamentary Service Board because we do all the donkey work here," a junior staff member who wants to remain anonymous told DAILY GUIDE .
According to the junior staff members, what has infuriated them most is the inconsistency in the determination of the salary increment even within the junior staff ranks.
Some of the junior staff told DAILY GUIDE that some workers at level five, who are below workers at level six, were rather given an increment of 25.8% while their seniors at level six had just 18.25%.
"This is gross injustice. We are not told the basis for this gross injustice," a worker told DAILY GUIDE .
According to the junior staff workers, in 2002 when they had their last salary increment—at the time the late Peter Ala Adjetey was the speaker of Parliament—all workers, whether junior staff or senior staff, had 100% increment in salary.
"We will never allow this injustice to happen to us and will definitely rise up against this," some of the workers told DAILY GUIDE .
By Thomas Fosu Jnr