Tech: Anti drugs counterfeit app tops maiden MEST-Vodafone hackathon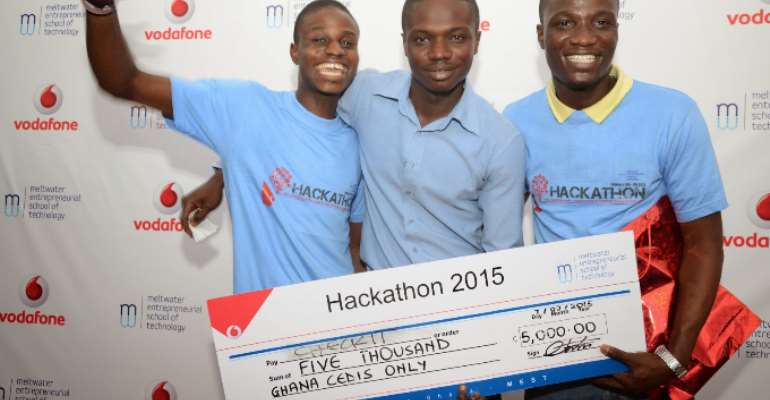 Three young programmers emerged winners of the first ever hackathon hosted by the Meltwater Entrepreneurial School of Technology (MEST).
'CheckIt', by a Hambau Abdulai Yaya, Samuel Amoah and Benjamin Kissi aims at addressing counterfeit drugs in Ghana.
"CheckIt is a platform that allows manufacturers to protect their brands and their consumers against counterfeiters", said team leader Benjamin Kissi.
He explained that scratch codes on the product can be used by consumers to check the authenticity of the product.
The app follows in the steps of the popular mPedigree that has helped to reduce fake drugs in many shops in Africa.
Judges at the two-day hackathon say the appeal, simplicity and the potential impact of CheckIt was key factor in their decision.
Team CheckIt won GH¢5,000 as their prize.
The second place team, composed of Abideen Adelu, Barnabas Nsoh and Prince Anim came up with RoadMate aimed at giving real time traffic updates; information on shortest routes to destinations, taxi and lorry fares among others.
They took home GH¢3,000.
Paul Damelie, one of the talented programmers at the event said although the StartUp app by his team did not make it to the final two selections he learned a lot.
"The goal for me was to learn how to gel with the team. It wasn't necessarily to win. We achieved that to some level. The experience was good", he said.
StartUp aims at providing information and resources for entrepreneurs starting a new business idea.
In all 19 apps were developed by the hackers in what the judges acknowledged was a keenly contested hackathon.
Hackers took on challenges in five key categories: health, security, lifestyle, entertainment, and transportation.
The event was sponsored by telecommunication giant, Vodafone. Story by Ghana | Myjoyonline.com | George Nyavor | [email protected]