Asutifi-South with Hwidiem as district capital faces a problem with a huge number of unemployed junior high school leavers. This prompted Nana Kofi Asante Tano I, Nkosoohene of Hwidiem Traditional Area, to approach the Dutch NGO named TroTro Foundation for assistance. This NGO, working solely with volunteers, has realised many projects in the district over the past 25 years, like e.g. three Primary/JHS-schools (two in Hwidiem and one in Kensere), 4 KVIP's, water-systems in the nearby villages of Twabidi, Kwabena Gyan and Apenimadi, support of women-groups producing gari, palmoil and mushroom.
After consultation of the DCE and the District office of Education, it was concluded that a Practical Vocational Training Centre for JHS-leavers would be helpful in combatting the identified problems.
In 2012 TroTro Foundation promised Nana Tano to raise funds for the project, recently the message came that there is enough money to start the first phase of the project. Wild Geese, a big Dutch NGO for Development Aid, donated 30% of the available budget.
For management of the school in the near future, TroTro foundation assured themselves of the assistance of the Catholic Bishop from Goaso diocese, Most Reverend Peter Atuahene.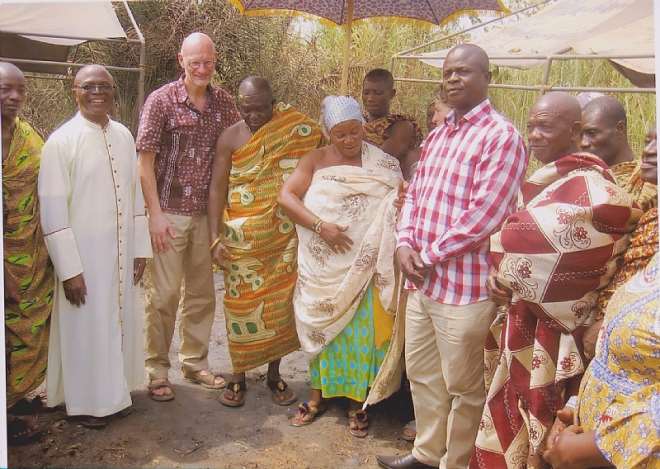 OMANHENE AND QUEEN MOTHER HWIDIEM AT PROJECT SITE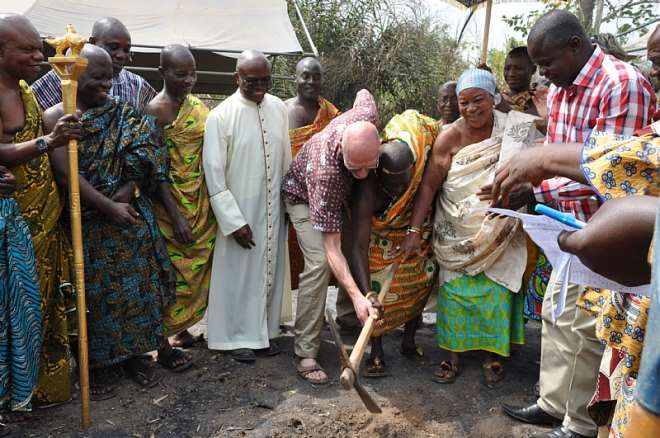 NANA USING THE PICKAXE