Danquah's tradition should be remembered, honoured by all - Kufuor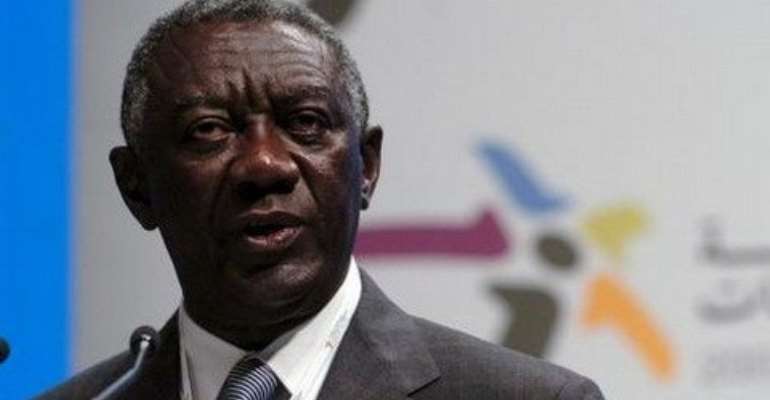 Former President, John Agyekum Kufuor has said the celebration and remembrance of late statesman Dr J. B. Danquah should not be left to the New Patriotic Party (NPP) alone.
He said the values J.B. Danquah stood for and the role he played in the struggle for freedom was not only for the NPP but for all Ghanaians.
"J.B. Danquah belongs to Ghana and irrefutably played a titanic role in the making of our nation that we are all proud to belong to today.
" Although my party – the New Patriotic Party sees itself as heirs to its political tradition, his role for independence and the establishment of a democratic process should always be remembered and honoured not only by our party but I'll say, by all of Ghana", he continued.
The former President was speaking at this year's J. B. Danquah Memorial Lecture Series held at the International Conference Centre in Accra.
Mr Kufuor said one of the most painful moments in the nation's history was the circumstances under which J. B. Danquah died in prison 50 years ago.
These unpleasant and difficult circumstances should not be allowed to impede the nation's desire to move ahead and become stronger than it has ever been.
"The growing up pains of our nation threw up some very unpleasant and difficult moments, none more painful than the circumstances under which J. B. Danquah died in the prison cells 50 years ago today".
He continued, saying, "but I'm sure J. B. Danquah the philosopher and visionary that he was himself, whose hallmark was tolerance will not want this rough patch in our national evolution to interfere with the bigger picture of building a united and prosperous Ghana."
He said the late politician's desire to instill truth, and ensure that historical facts are not distorted or misrepresented is something worth emulating.
Mr Kufuor urged the youth to learn about Dr J. B. Danquah and accord him his rightful position in the history of our nation.
  Story by Ghana | Myjoyonline.com | Naa Sakwaba Akwa | [email protected]