AFAG launches 'Just Drop Mahama Campaign'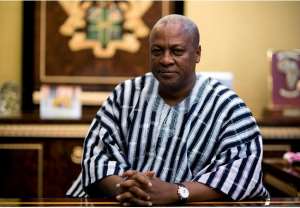 Pressure group, Alliance for Accountable Governance has launched a campaign to put pressure on the Mahama-led administration.
The campaign dubbed: 'Just Drop Mahama' is aimed at giving a platform to ordinary Ghanaians to air their view on the untoward hardship they are being subjected to by the National Democratic Congress (NDC).
Top on the agenda will be the worsening power crisis which they say is affecting to socio-economic conditions in the country.
Speaking at the press conference in Accra, Vice President of AFAG, Henry Asante said Ghanaians are fed up with the empty promises of President Mahama.
"President Mahama is gaining notoriety for giving empty promises. He must speak on substance not for pleasure," he stressed.
He indicated that the 'Just Drop Mahama Campaign' to be held at town halls, markets and in communities will be replicated nationwide.
Mr. Asante said the forum will be held twice a week to enable Ghanaians air their frustrations to the "incompetent and inept Mahama government."
He stated that President Mahama's inability to end the power crisis popularly known as 'dumsor' for the past three years, makes him "the most incompetent president in Ghana's history."
"President Mahama has shirked his responsibility and is rather globetrotting at the expense of the taxpayer" he added.
Henry Asante said the time has come for Ghanaians to remind President Mahama that "we gave him the mandate to rule us".