Transport Unions Must Train Their Drivers—Kwasi Yirenkyi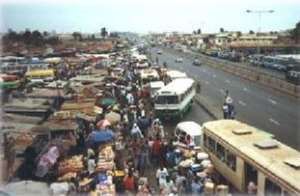 Eastern regional manager of National road safety commission, Mr. Kwasi Yirenkyi, has called on the various commercial transport unions to often organise in-service training for their drivers in order to provide them with fresh ideas and also educate them on road signs.
He said it is one way of preventing the menace of road accidents and deaths in the region and country as a whole.
Mr. Kwasi Yirenkyi said this in an exclusive interview with the reporter at Koforidua, the regional capital.
According to him, though his outfit was able to achieve their target last year, he still thinks more needs to be done to stabilize the situation as it was in 2001 where number of road accident deaths was just nine per anum. He attributed the current road accident cases to the small size of roads in the region, bushes along road side which normally stretches onto the roads.
Mr. Yirenkyi was however worried that most pedestrians are normally knocked down and killed by vehicles due to the bushes along the roads and appealed to the authorities in charge to take up the task of clearing them.
On his outfit's target for this year, he hinted their intention to collaborate with the media to strengthen education to the public at all times especially where there are flash points.
He therefore called on the media to allocate time to help in the education on road safety to raise the awareness. He also mentioned his intention to strengthen the relationship between his outfit and the other stakeholders.
Mr. Yirenkyi eventhough accepted there were challenges of logistics and staff, he pledged to work in hand with everyone that matter to make the region free from accidents.