Develop Support Strategy For Small-Scale Farmers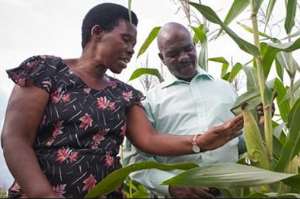 The Ghana Trade and Livelihood Coalition (GTLC), a trade and agriculture advocacy, research and practice organisation, has called on government to develop a clear strategy to support small-scale farmers, especially women and the youth.
According to the Coalition, such assistance should include land acquisition, skills development, land preparation equipment like power tillers and animal traction equipment and financial support from banks and government by way of annual budgetary allocation for small scale farmers.
The GTLC made the recommendation in its 2013 Agro-Policy Performance Barometer, using indicators provided by the Medium Term Agriculture Sector Investment Policy (METASIP) to assess the impact of the policy on productivity and incomes of tomato and rice farmers.
The study covered 10 small-scale commercial rice and tomato production areas in nine administrative regions, seven of which gathered information on rice and four on tomato while one centre gathered data on both rice and tomato.
In all, 660 farmers participated in the study which looked at skills, land size cultivated, yield per acre, among others.
Presenting the findings and recommendations of the study, Theodore Antwi-Asare, a Senior Lecturer of the Department of Economics of the University of Ghana, said government-supported projects and programmes should consider facilitating better engagement and support for small-scale producers through the banks.
There is also the need for research institutions and CSOs to release data on the agriculture sector to facilitate policy implementation.
The study also highlighted the lack of active participation by the Ministry of Trade and Industry in promoting agro-technology such as greenhouses for tomato farmers.
As a result, none of the major tomato producing communities around the Wenchi Tomato factory and the Northern Star Tomato Factory provided tomato for the factories in 2013.
GTLC believes that farmers are willing to adapt to new methods as the study also found that most small-scale farmers use certified seeds.
GNA