Mahama Likely To Create Ministry Of Transformers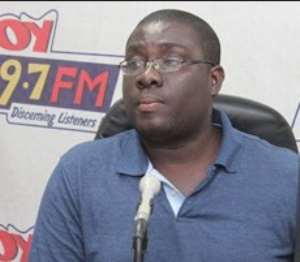 National Youth Organiser of the New Patriotic Party (NPP), Sammy Awuku has sardonically asked government to create "a ministry for (electricity) transformers" if it believes creating new ministries is the panacea anytime there is a problem.
According to him, since transformers are blowing up every now and then resulting in power cuts to whole cities and towns, the creation of that ministry will be in order, going by the current administration's lack of clear objectives.
The NPP Youth activist, who described the setting up of the Power Ministry from the Ministry of Energy last year as "a shambolic act," also indicted the Mahama administration for its uninspired leadership saying they are only interested in pontificating in the Queen's language, and added that it is obvious the government has "no strategic plan to solve the problem."
He strongly expressed doubts about the ruling party's ability to find a lasting solution to the power crisis in the country and estimated that at this current rate, the country is definitely being plunged into an abyss.
"...we are heading towards a ditch and we are in the dark days," he said in relation to the press conference held by the Minister of Power, Dr Kwabena Donkor.
The sector minister, on Monday, assured the nation that the energy crisis that has bedeviled the country will end in a short time and further indicated his outfit's resolve to do all it can to improve power supply in the country.
Ghana's energy crisis has deteriorated in recent times, with the authorities blaming the situation on low water level in the Akosombo dam and lack of gas to power the country's thermal plants. This has adversely affected the operations of processing, manufacturing, and mining companies, leading to substantial job losses as companies look to reduce their overheads.
Contributing to a panel discussion on Peace FM's morning programme "Kokrokoo", Sammy Awuku asserted that the crippling power problems has so much affected Ghanaians that they have suddenly lost hope in President John Mahama and his government.
In his conviction, Ghanaians cannot express faith in the President due to his penchant for promising to end the power crisis by 2013 and failing to deliver on those promises.
"As a leader, what you have is word and your word must be a bond but the president has lost that bond with the people," Sammy Awuku added.
Meanwhile, the Power Minister Dr. Kwabena Donkor in an interview with host Kwami Sefa Kayi on the morning show, has promised Ghanaians that he will resign from his post should the power problems continue to the end of this year.
He has pledge to work hard together with his subordinates to resolve the erratic power supply that has since 2012 crippled the energy sector.