Energy Crisis: Thousands Of Workers To Be Laid Off If...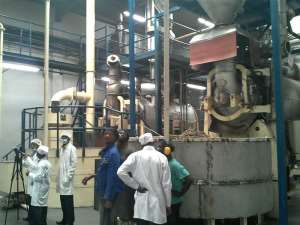 The Association of Ghana Industries (AGI) has signaled that several companies/industries in the country would be forced to lay off thousands of workers if the current energy crisis continues.
AGI policy researcher, John Deffor revealed on Adom fm's Burning Issues programme on Monday that the unfortunate situation is the only means by which the companies/industries would continue to stay in business.
Industry owners, he said, would have to embark on the move to enable them break even as it is becoming more expensive to run industries on generator.
"If you are a market leader, you are likely to lose market share, don't forget that we are competing with other countries that have power and we do not. I will be surprised if there are companies who really meet their production targets...," he told show host, Afia Pokua.
Ghana's Power Minister, Dr. Kwabena Donkor at a press conference assured that government is putting in emergency power measures to help reduce the power rationing which has intensified over the last few weeks.
Electricity supply challenges over the past few years have adversely affected the operations of processing, manufacturing and mining companies, leading to substantial job losses as companies look to reduce their overheads.
The signals given by the AGI was corroborated by the General Secretary of the Timber Workers Union (TWU), Joshua Ansah, who claimed a timber company had applied to be offered the opportunity to lay off about a thousand workers.
The agony of the unnamed company and several timber industries, he continued, is indicative how the timber industry, due to the cost of production, are collapsing; a situation he described as unfortunate.
"Any collapse will open the floodgates to illegal loggers who will plunder our forest resources and massively degrade our lands…," he said.
Ghana currently exports about 400,000 cubic meters of wood per annum and consumes 600,000 locally. The European Union (EU) is one of the biggest markets for timber products and has traditionally received about 60 percent of Ghana's timber exports.
Mr. Ansah said Electricity, which constitutes about 20 percent of operation cost for processing and manufacturing companies, has remained unreliable leading to the loss of production time and equipment breakdown.
Most producers have had to rely on expensive diesel to power their plants, adding that most of the timber companies use more than 5000 to 8000 drums of diesel to power their machines which majority of them can not afford.
Mr. Ansah said the current load shedding exercise was affecting the growth of the industries and stressed the need for government to find a lasting solution to the energy problem.