Bomb targeting Egypt police kills one in Alexandria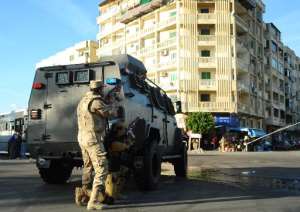 A bomb blast targeting a police checkpoint has killed a civilian near Egypt's second city of Alexandria. By Tarek Abdel Hamid (AFP/File)
Cairo (AFP) - A bomb blast targeting a police checkpoint Tuesday killed one civilian and wounded two others, including a 12-year-old boy, near Egypt's second city of Alexandria, police said.
The explosion occurred on the western outskirts of the Mediterranean city near a residential neighbourhood.
Police said the blast missed the checkpoint, which had been moved from its earlier location, and wounded three people including the boy.
One of the two wounded adults later died in hospital.
There was no immediate claim of responsibility.
Earlier on Tuesday a small bomb hidden in an electrical transformer exploded in central Cairo without causing casualties.
Two sound bombs were also defused near a parking lot at Cairo International Airport, security officials said.
Scores of policemen and soldiers have died in militant attacks, mostly in the Sinai Peninsula, since the army toppled Islamist president Mohamed Morsi in July 2013.
The militants say the killings are to avenge a deadly crackdown on Morsi supporters since his overthrow.