Upsurge in Boko Haram violence: A timeline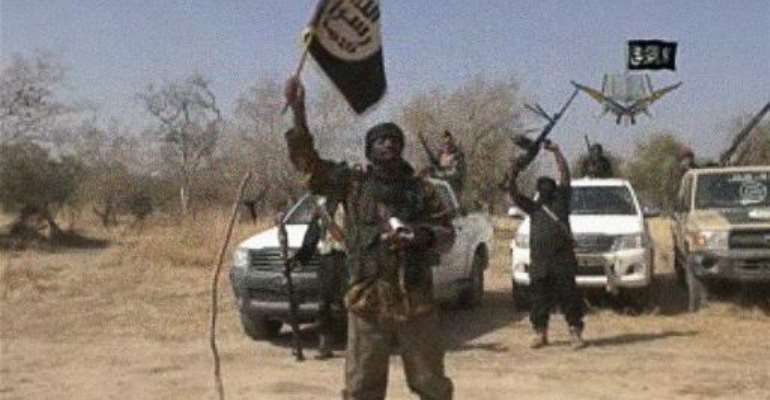 LAGOS (AFP) - The Nigerian Islamist group Boko Haram, which has proclaimed a "caliphate" in the areas under its control in the northeast of the country, is now threatening neighbouring Niger, Chad and Cameroon.
The insurgency has left more than 13,000 dead in the past five years.
Here is a timeline showing the main events since an upsurge in violence in April 2014:
-- 2014 --
- April 14: 276 young girls are seized from their school by Boko Haram gunmen in Chibok, a remote corner of Borno state in northeast Nigeria. Fifty-seven of the girls manage to flee, while 219 are still being held.
- April 14: At least 75 people die in a bomb blast in a packed bus station on the outskirts of Nigeria's capital Abuja. Boko Haram later claims responsibility. New attacks there in May and June leave another 40 dead.
- May 5: Boko Haram gunmen raze the town of Gamboru Ngala in Borno state and kill at least 300 people, according to local sources.
- May 20: Twin car bombings in the central Nigerian city of Jos, blamed on Boko Haram, kill at least 118 and bring entire buildings down.
- June 3: Heavily armed gunmen raid four northeastern villages in Borno state, with local leaders putting the death toll as high as 400-500.
- November 28: Two suicide bombers blow themselves up and gunmen open fire during weekly prayers at the mosque of the Emir of Kano, one of Nigeria's top Islamic leaders. At least 120 people are killed and 270 others wounded.
- December 1: More than 150 people die in a Boko Haram raid on the northeast Nigerian city of Damaturu in Yobe state.
- December 14: Boko Haram kills 32 people and kidnaps at least 185 others in an attack on the northeastern village of Gumsuri to the south of Maiduguri, the capital of Borno state.
-- 2015 --
- January 3: In the beginning of a vast and bloody offensive in which Amnesty International says "hundreds" are killed, Boko Haram fighters attack the town of Baga on the banks of Lake Chad.
- January 25: Boko Haram captures the strategic northeastern Nigerian town of Monguno, and a military base, which lie about 125 kilometres (80 miles) north of Maiduguri, as US Secretary of State John Kerry pledges further US support for the counter-insurgency.
- January 30-31: The African Union, meeting in the Ethiopian capital, proposes to set up a regional five-nation force of 7,500 troops to fight Boko Haram.
- January 31-February 1: Chadian aircraft bomb the Nigerian town of Gamboru at the border with Cameroon. Gamboru is separated by a 500-metre (500-yard) bridge from the Cameroonian town of Fotokol, where Cameroonian and Chadian soldiers have gathered over the past few days.
- February 1: Boko Haram fighters storm Maiduguri. The army says it has repelled the assault with the help of militias.