Secretaries, Sims, Sex and Sensimilia: Weekly Wrap Up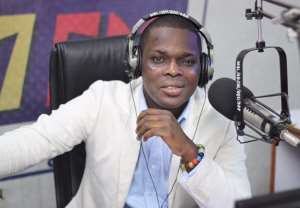 Fridays are nice. The end of a tough week, the beginning of a quiet weekend, the chance to review a fascinating week… what's not to like?
We started the show on Monday with an attempt to understand why the General Secretaries of all political parties invited to participate in last Saturday's General Secretaries' Forum on Newsfile failed or refused to appear on the show. I say failed or refused, because all but one of them actually did turn up at the studio, but then they refused to appear on the show, because General Mosquito couldn't make it. On Monday morning, we tried to reach them all for comment on our show. Again, they all failed or refused to speak. All except one: Ivor Greenstreet of the CPP. He decided to waive his right to remain silent by calling in to blame Joy FM for their decision to boycott the show.
He said we caused the whole problem by not informing them the previous night, when we realised that General Mosquito couldn't make it. If we had done that, then they wouldn't have turned up at the studio at all! So let me get this straight, Mr Greenstreet. It is Joy FM's fault that you boycotted the Show on Saturday, because we didn't allow you to boycott it on Friday night? As for me, I won't repeat somebody's view that you have Myopia. What I will ask instead is this; do you have some challenges comprehending this situation? If you do, allow me to assist you.
The show you were invited to was themed General Secretaries' Forum.
The show you were invited to was NOT themed Time with General Mosquito.
You were invited to come and talk to Ghanaians
You were NOT invited to come and talk to General Mosquito.
Thirty seconds of air time on Joy FM costs more than the monthly salary of  over seventy percent of Ghanaians.
We gave you four hours of air time to come and promote your cause.
You, in your capacity as General Secretary of the CPP boycotted free advertising for your party.
There is a guy who is a very avid listener of the Super Morning Show. Wherever he is in the world, he tunes in to listen and offers wonderfully constructive feedback on our social media platforms. Solomon is a supporter of the CPP, and he is always advocating for more time to be given to his party on our network. Mr Greenstreet, I want you to think about what you have just done to Solomon and all the other Ghanaians who place their faith and hope in the party that chose you as its General Secretary. Think. And feel free to apologise in your own time.
Not to me o! To them, ok?
Tuesday Morning brought the news that the Police, with the help of a task force - which relied on Subah Technology - had arrested a number of Sim Box crooks who had defrauded Ghana of more than 35 million dollars in just a seven month period! Kwaku Sakyi-Addo spoke on behalf of the Telcos, and suggested that the permanent solution to this problem lay in the scrapping of ASrbitrage, the component of international call costs, which makes it profitable for sim boxers to operate in the first place.
Kwame Baah-Achamfuor of the NCA disagreed, and said the permanent solution lay in the establishment of an interconnect clearing house to monitor all telecommunications activity including sim box fraud. He was however unclear on why the government was so reluctant to simply scrap te arbitrage and put all sim boxers out of business in one move. Kwaku Sakyi-Addo on his part, was not very forthcoming with an explanation of the Telcos' position on all the other potential benefits of an Interconnect Clearing House, besides Sim Box Fraud detection.
Oh, and he also felt that the over 21000 unregistered sim cards of one Telco alone, found with these fraudsters were bought in bits from retailers around the country. In spite of the fact that they came in wholesale packaging, and followed sequential telephone numbers.
Ok, two more days to recap: Wednesday and Thursday. On Wednesday, we explored some Workplace Horror stories including sexual harrasment. Turns out provocative dressing is also a form of sexual harrassment against men. Are we complaining? O well, either way, a sexy office is not necessarily a happy office.
On Thursday, we brought you a Hotline documentary on the debate around legalising the production of weed, kush, herb, sticky-icky, mary-jane, ganja, sensimilia, marijuana in Ghana. Opinion remains divided.
Today is our grand finale for the week, and it is packed! John Dumelo and friends are here to help us answer the question, "Is it easy to stay faithful?" Also, today marks the launch of my book, Messages from the Morning Man, plus it's payday for most of us, so you seriously have no excuse for not picking up your copy today. In fact, if you come get it while I'm in the building today, I'll sign your copy and we'll take a selfie. How's that?
It's Friday, we're the biggest Breakfast Show in Ghana, and you're the reason why.
My name is Kojo Yankson, and it's been a week of Secretaries, Sims, Sex and Sensimilia.
GOOD MORNING, GHANAFO!