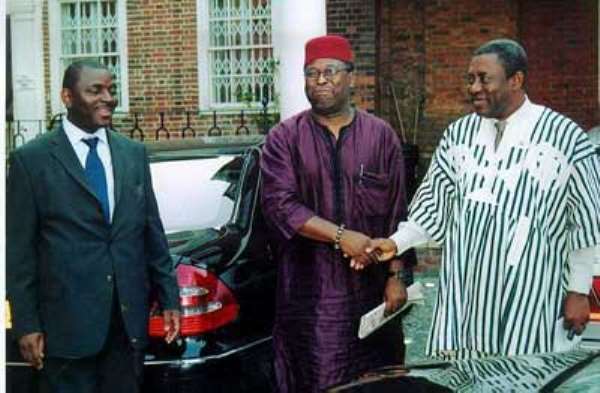 Ghanaian newspapers have been urged to ensure accurate, fair and balanced presentation of reports in their columns. Such a stance would give the papers the much-needed credibility and ensure good patronage. The call was made by Mr. Isaac Osei, Ghana's High Commissioner to the UK during the launch of the Ghana Today International newspaper in London.
Mr. Osei added that the greatest gift the paper could give Ghanaians in the UK would be to ensure that its columns were devoted to cover views from all sections of the Ghanaian society, irrespective of their social and political standing and advised the editorial staff to create a platform for the exchange of ideas in furtherance of national development goals.
High Commissioner Osei praised the paper, which is currently sold in the UK and Ghana, for bringing into the lime-light the contributions of Ghanaian professionals and other individuals in the UK and holding them up as mentors and role models worthy of emulation.
Dignitaries present at the high profile event included Mr. Kwabena Baah Duodu, Deputy High Commissioner, Ms. Rhian Benson, a Ghanaian musician, Ms. Anita Asante of Arsenal Ladies Football Club and Captain of England's on Under-19's Ladies Football Team, Mr. Chris Piper, a Circulation Consultant and representative of WH Smith Wholesale Distributors and senior staff of the Ghana High Commission.
Speaking at the function, Nii Armah Akomfrah, Managing Director of Goldfire Ltd, publishers of the paper told the gathering that the paper would be implementing a plan for the national and international distribution of the paper.
He said apart from distributing the paper in the major cities in the UK, plans have been made to reach Ghanaian and other African communities in Europe, Holland, Germany, the USA and Canada.
Mr. Frank Yao, Marketing Director of the paper said the journal cherished the co-operation and understanding which currently existed with the Mission.
He praised of the open-door policy of the Mission which, he said, had brought Ghanaians closer to the Mission and thanked the advertisers of the paper, especially Ghana Airways, Joy Telephone Company, Kasa Phone Card, Ghana Tours,
the Original Black Entertainment Television (OBE), First African Remittances Ltd for the continuous support, without which the paper could not have survived.
Chris Piper said WH Smith would use its numerous outlets to circulate the paper within the UK when the agreement between his company and the paper formally takes effect in October this year.
He assured the management of the paper his company would not relent in its efforts until the paper reached its projected targets globally.
PIC: Frank Yao (2nd left) Marketing Director of GTi pictured with Miss Anita Asante (3rd from left) and other officials of GTi.