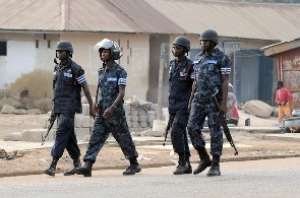 Billboards conveying messages of the two main political contenders in the forthcoming Nigerian polls have been mounted in Ghana for some time now. The development is an indication about how far the two are willing to go in their bid to mop every available vote from Nigerians living in any nook and cranny of the world.
It was only when Kennedy Ohene Agyepong, a Member of Parliament (MP) and others pointed at the unusualness and national security implications of the billboards recently that the attention of many Ghanaians was riveted on the subject, sparking a litany of taxi and trotro gossips about them.
The billboards as they stood majestically along Accra's choice roads, some of them ceremonial, were a security nuisance. It was relieving to learn that they have been pulled down, regardless of how much the international moneybags paid for them. Maybe a barter of sorts was reached between the parties.
Goodluck Jonathan and Muhammed Buhari might not be the best of friends but their decision, or their friend's, to bring their political fight to the streets of Accra smacks of a certain expansion of the frontiers of their political feud. This we are not ready to host on our already overheated political terrain.
We have enough of our Ghanaian troubles to want to add another country's. Some Igbos in Ghana, especially in Accra, have already started quarrelling over chieftaincy positions among themselves. It can only be imagined if political rivalries which should remain within Nigeria are transferred to the streets of Accra and beyond.
If Nigerian politics festers here it will not be long before we start witnessing PDP and APC rallies at Mantse Agbonaa and perhaps the Black Star Square with Goodluck and his Katsina rival campaigning for their individual parties.
It is better to have Abubakar Shekau, leader of the Boko Haram, know that we have nothing to do with Nigerian politics, even if some political leaders in our country have friends in high places in Abuja and Lagos.
We have been told that the Advertisers Association of Ghana is not in agreement with the action. They are not alone in this position as others too think the action is irresponsible. In such matters, especially bordering on national security, opinions are largely not in unison.
Ordinarily, we could brush the concerns aside, considering the fact that there are over two million Nigerians in Ghana and a similar number or even more of Ghanaians with that country's ancestry here.
But this is politics, an occupation which has security implications when carried across borders. We ignore it at the peril of our sovereignty. That is what we mean.