AFCON 2015: Afful performance for Ghana exposes Algeria's Bentaleb performance on left wing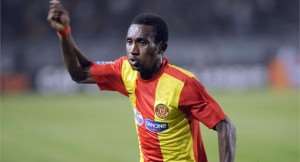 Ghana right-back Harrison Afful can take credit for the condemnation of the left midfield performance of Algeria star Nabil Bentaleb during the Black Stars 1-0 win at the 2015 Africa Cup of Nations over the Desert Foxes.
Bentaleb featured for Algeria on Friday in the African Cup of Nations against Ghana – in a game his nation eventually lost 1-0 thanks to a late Asamoah Gyan strike.
The Spurs midfielder did not have his best game. In fact he was lucky to stay on the pitch as he had a torrid time trying to outwit Ghana defender Afful who was playing at the right back.
He should have been booked in the first half after an entertaining scuffle with a Ghanaian player Emmanuel Agyemang Badu but the performance of Afful prevented the Algerian from making any meaningful impact.
He then made a professional foul in the second half which did, finally, earn him a booking.
View image | gettyimages.com
He failed to make an impact on the game, with the poor pitch and standard of play affecting most of the players on the pitch.
But Bentaleb was not entirely to blame for his poor performance. The Tottenham star is an excellent central midfielder, but Algeria boss Christian Gourcuff decided to start Bentaleb from the left hand side of midfield.
He is clearly not a left winger and he struggled to have a major impact on the game from his unfamiliar position.
Eventually he switched inside when Leicester City star Riyad Mahrez was introduced to the fray and he immediately improved but if he had started the game there, and Algeria had some genuine width, they might not have lost to the Black Stars.
Plenty of fans, Algeria and Tottenham, have reacted to his performance on Twitter, and here is some of the best reaction…
Why the hell is bentaleb on the left wing what the hell is the manager doing hmar
— Way Way (@MohamedNamoun) January 23, 2015
What is Bentaleb doing on the left wing #AFCON2015 — Matthew (@Islander151) January 23, 2015
Should be Taider & Bentaleb in the middle holding with soudani on the left, feghouli right, brahimi CAM & Belfodil striker — Amou Del (@4bdel4zyzz) January 23, 2015
Let's talk about Bentaleb in left midfield
— Maher Mezahi (@MezahiMaher) January 23, 2015
Nabil Bentaleb's heatmap from the first half. Should be in the middle, not on the left pic.twitter.com/3Rp1wng5aX
— Ben McAleer (@BenMcAleer1) January 23, 2015
weird to see bentaleb playing as a left midfielder, gourcuff keeping it compact. — izzy izumi (@izzybadaoui_dz) January 23, 2015
Bentaleb receiving a lot of criticism for his performance.Not his fault. Should play with a real defensive midfielder
— Waiting (@ManVsSpace) January 23, 2015